How to turn on Virtual Background in Zoom
If you don't want coworkers to see your home during a Zoom meeting, learn how to use the virtual backgrounds feature.
As most offices are closed and work travel plans are halted, a lot of professionals are facing working at home for an extended period. Downloads of virtual collaboration tools like Zoom have skyrocketed, and many users are likely experiencing online meetings and remote work via those apps for the first time.
Not everyone has a home office, so people attending a video meeting might be in a bedroom, kitchen, or other space that all attendees can see when the video is enabled. Letting coworkers into your private space can be uncomfortable, which is why Zoom offers virtual backgrounds that let users easily hide what's behind them.
Zoom virtual backgrounds have a hardware requirement in order to function. When following the steps below, you may get a message that your computer doesn't meet the requirements; you can still click through and try virtual backgrounds, but your performance may vary.
Go to www.zoom.us and sign in (Make sure you have downloaded the latest software release of Zoom). Go to the settings  https://zoom.us/profile/setting , then click on 'In Meeting (Advanced)'.  Enable 'Virtual back ground'.
Go out of www.zoom .us and open the Zoom desktop application. Look for the gear icon in the upper right hand corner. Click on the gear to open the Settings window.
With Settings open, you should see Virtual Background about halfway down on the left side. Click on that, and you'll see the Virtual Background window.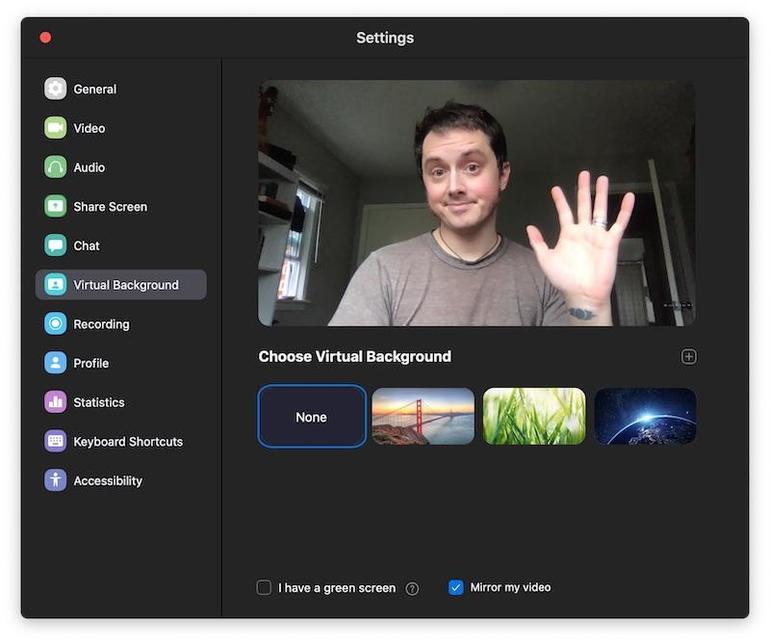 In the Virtual Background window, you can see your current settings, and also a couple of background image options. Go to  'add image' and add any image you want from your own photo drive. For images you find on Google, download  and save them to your own computer drive, in order to upload them as a virtual background.
Choose the background you like best to have as your virtual background. Once you are in a meeting, you can go to 'start/stop video', at the left bottom, click on it, and you  will see 'choose a virtual background'. Click on it and you can add/change the virtual background (also during the meeting).   For more info, watch this Zoom video on how to activate Virtual background.
We're constantly updating the individual components in our Zoom Room  solutions to the very latest versions.  Please share your information below and one of our representatives from LightWerks will be in touch to provide you information and a custom quote ASAP.