Create a bigger picture with LG Video Walls
Video walls are large, multi monitor displays that are tiled together contiguously or overlapped in order to form one large screen. LG Business Solutions offers a full suite of innovative LG video walls in a wide range of sizes that are ideal for various environments: college campuses, retail stores, meeting rooms, lobbies, auditoriums, hotels and airports. See below some of the latest products and technologies LG offers.
The new LG 0.44mm Bezel LED Video Wall comes with a range of features, including:
More Immersive Viewing Experience: Our new 0.44mm Bezel Video Wall has an even smaller bezel, creating a borderless effect.
Easier Installation & Monitoring: LAN daisy chain allows for easy installation. Businesses have greater control and flexibility in regards to their content.
Simple Maintenance: LG video walls are come with screen fault-detection software built-in and maintenance is simplified with the removal of the external media player and cables.
Bring your products to life with this revolutionary technology.
130″ Direct View LED
Transform meeting rooms into an immersive technological experience. This massive 130" display features embedded speakers and HDR10 technology for impactful visual and audio effects. The greatest advantage of LG's LED screen is the 130-inch large-sized screen with no bezel. Even bigger than four 55-inch conventional LCD displays combined, it displays content without lines or distortions and provides a more immersive visual experience.
Designed to be user‑friendly, the display offers flexible installation, auto‑configuration, and remote control support to keep meetings running smoothly and on‑time.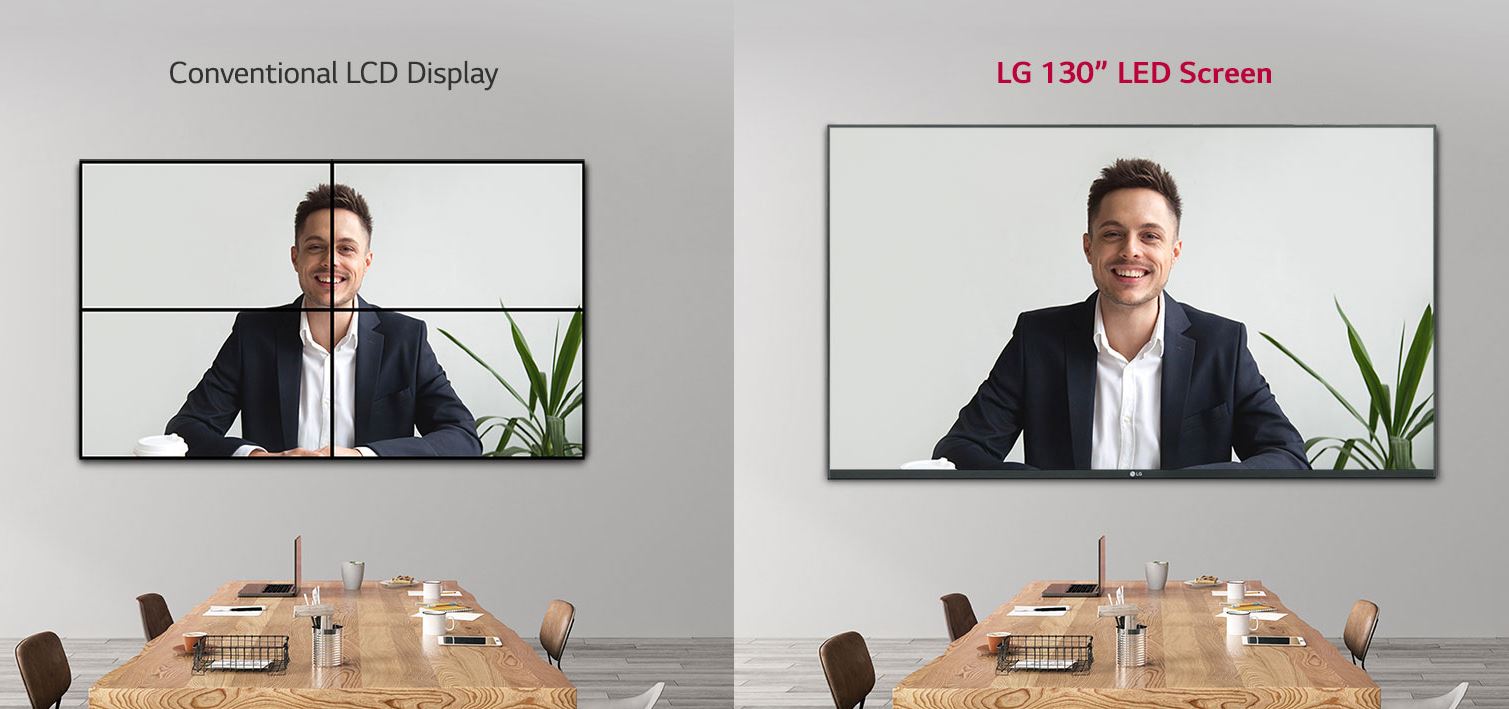 To enable an environment where ideas can come to life, Lightwerks creates a versatile and reliable audio visual solution that suits your unique needs and space. We have a wide range of audio/visual solutions which include top-of-the-line display solutions, cloud conferencing, and advanced AV control systems.
Contact us at LightWerks today for more information on what we can do for you or your organization!