Transform Your Space With NEC Digital Signage & NEC Video Walls
Today's corporate and educational environments demand technology solutions that are cost effective, reliable and able to keep up with rapidly changing learning environments.
NEC offers a full suite of innovative digital signage and video wall solutions that are ideal for various environments: college campuses, retail stores, meeting rooms, lobbies, auditoriums, hotels, and airports. NEC Display solutions can transform spaces with comprehensive and indispensable technology.
Whether your customers' digital signage needs are big or small, many or few, 24/7, or just a couple of hours, NEC's vast selection of displays are sure to fit the job. NEC's LCDs are available from entry-grade to professional-grade and tout the latest in display technology.
Deliver maximum impact to your customers' messaging on a single screen or up to 100 displays tiled together in a jaw-dropping video wall. Look to NEC for captivating LCD screens for your business and digital signage applications.
NEC's portfolio of high-quality commercial and professional grade digital video wall solutions are ideal for dynamic digital signage and informational video wall applications. NEC's exclusive TileMatrix™ and TileComp™ technologies, combined with LED backlighting, high definition resolution, and the ultra-narrow bezels, allow for simple installation and bright, astonishing video walls.
TileMatrix: Go big! Expand a high-definition image across your entire video wall with no external hardware or software!
Ultra-Narrow Bezel Design: Create a near-seamless video wall by minimizing your image gap with one of NEC's ultra-narrow bezel units, where the width can be as low as 5.5mm!
Integrated Heat Sensors and Cooling Fans: NEC's built-in technologies allow you to check heat diagnostics at three unique locations within each display.
NEC Display Wall Calibrator Software: Calibrate your video wall using NEC's software to uniformly balance the white point and intensity of all displays in a single video wall.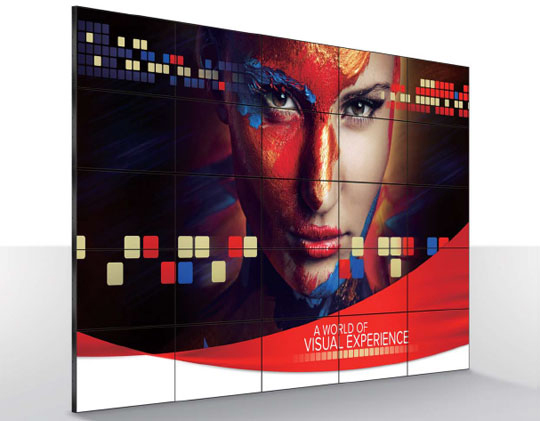 LightWerks combines all top-brand products with our expertise in design, installation, programming, project management, training, and maintenance to produce rooms and facilities that help people communicate more effectively than ever before. Reach out to us so we can help you perfect your communications today!