Education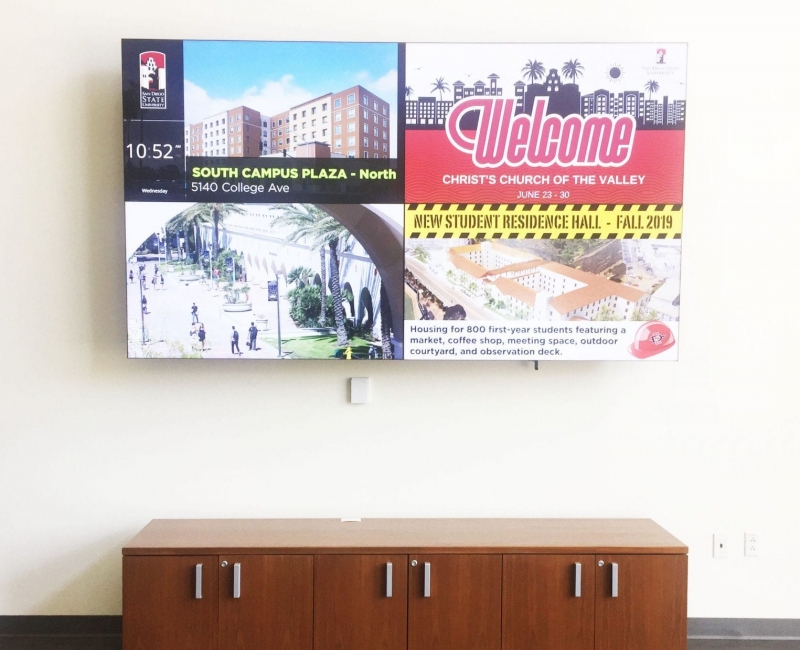 South Campus Plaza is a mixed-use student housing and retail project on the campus of San Diego State University. LightWerks was contracted under Sundt Construction to provide audio visual systems in the public spaces, various meeting rooms and tutoring rooms.
The Lobby areas of both buildings have video walls for displaying dynamic digital signage. We installed TVs in the elevator lobbies with laptop inputs, as well as Extron Sharelink Wireless sharing devices. There is an Extron MLC 62 push button wall controller for TV.
Each building has a Star Center tutoring room with multiple displays, wireless sharing devices and laptop inputs. Tech Conference Rooms feature a large wall mounted LCD, USB camera and microphones to support desktop video calling, BluRay players.
Wireless sharing devices and laptop connections. Each building is also equipped with a Multi-purpose room with a high definition Christie projector, recessed projection screen, podium for laptop, computer or BluRay presentations. Each of these spaces have custom programmed Extron Touch Link control systems for easy and intuitive user experiences.
To enable an environment where flourishing ideas can come to life, Lightwerks creates a versatile and reliable audio visual solution that suits your unique needs and space. We have a wide range of audio/visual solutions which include multiple monitors, projector and screen, web conferencing, total control systems and integrated audio & video.
Contact us at LightWerks today for more information on what we can do for you or your organization!