Education
LightWerks Co-Designs AV Wall with University
For the last 5 years, LightWerks has been co-designing and installing breakthrough solutions for the housing of AV systems in spaces that do not have the capacity to include separate audio visual furniture. Prior to the development of this solution, the University of Southern California needed to break open walls or create furred out walls to allow for the pathways needed for A/V and power related conduits. Through collaborating with representatives from the university, LightWerks was able to partner with millworkers to create AV wall enclosures that not only house the AV room system, but also allow for clean, unexposed power, conduit, and cabling. This simplified the installation for electricians, data and A/V technicians. A/V components are held inside of a finely finished, floor to ceiling, multi compartment cabinet. Finish colors are matched to the room trim and décor. LightWerks' thoughtful design speaks to the aesthetics, as well as the infrastructural and audio visual needs of the university.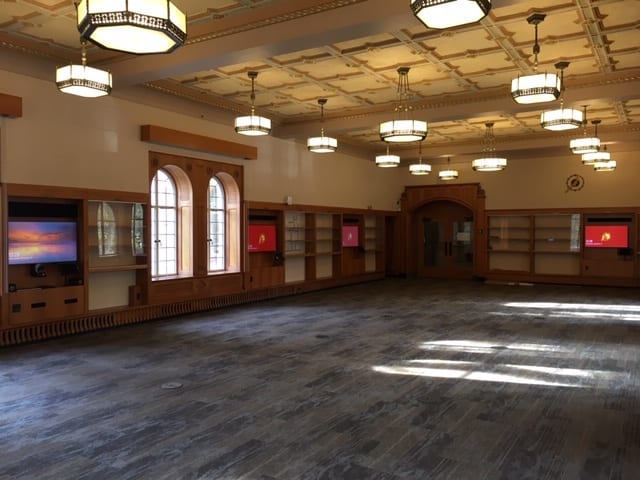 LightWerks converted the USC Doheny Memorial Library Reading Room into a multipurpose space called Faculty Hall where the book shelves used to be. It can be used for presentations, videoconferencing and meetings. LightWerks installed interactive museum kiosks. Outside the room, there is scheduler hardware and software by Extron. The advanced AV programming and touch panel design for this space has allowed end users to seamlessly specify the experience they wish to have in the room, and, by the press of a button on the touch panel, adapt the space to their needs.
This job was completed during USC's winter recess over the holidays this year, and the client was very happy with the results.
As a solution provider for audio visual needs, LightWerks can not only work with your organization to integrate technology in a variety of spaces, but also create AV enclosures that are in cohesion with the aesthetics of the rooms while saving considerable money on the infrastructure/construction requirements.