Corporate
LightWerks Modernizes Emergency Operations Center
Changing technology in recent years has shaped the way Emergency Operation Centers share visual information.  LightWerks partnered with the City of Oakland Fire Department to add state-of-the-art technology to their EOC Situation Room. The EOC is a centralized command and control facility designed to monitor major disasters. It can be activated in response to natural or manmade disasters, disease outbreaks, and other public health emergencies. The EOC is utilized when there is anticipation of emergency events or in response to an emergency. Its various jobs include collecting, recording, analyzing, and recommending achievable results based on incoming data and the expertise in the room.
One of the most important elements in the EOC situation room is an impressive 4X3 NEC video wall. Consisting of 12, 55" flat panels, the video wall is able to display content from various sources, including cable TV, PC inputs, streaming camera inputs from the auxiliary rack, video conferencing camera feeds, and HDMI inputs. The video wall allows responders to monitor critical content from various sources (local news stations, traffic camera footage, social media feeds, dispatch information, security camera footage, and medical readouts) simultaneously, so that they can absorb as much information about the situation as possible.
LightWerks installed a Crestron NVX audio video routing system, enabling the view of 16 sources at once, or a variety of pre-programmed presets, in any arrangement desired on the video wall.    All audio, video, and control is routed and managed by 2 Extreme Network switches.
Video conferencing maintains optimal visual communication between operations teams and staff based in the EOC. Video conferencing in the EOC is supported by the integration 2 Vaddio 4K pan/tilt/zoom cameras.  A Biamp digital sound processor is paired with a Shure MXW digital wireless microphone system.  The system consists of wireless gooseneck microphones that are placed at the operator stations and handheld microphones for presenters.  The solution provides crystal clear audio to in-room and remote meeting participants. Audio is further enhanced through the integration of a Crestron amplifier and QSC column array speakers.  An Extron SMP recording system allows for 4 video feeds to be recorded and streamed.  The content can be stored locally, or sent to a location on city's network.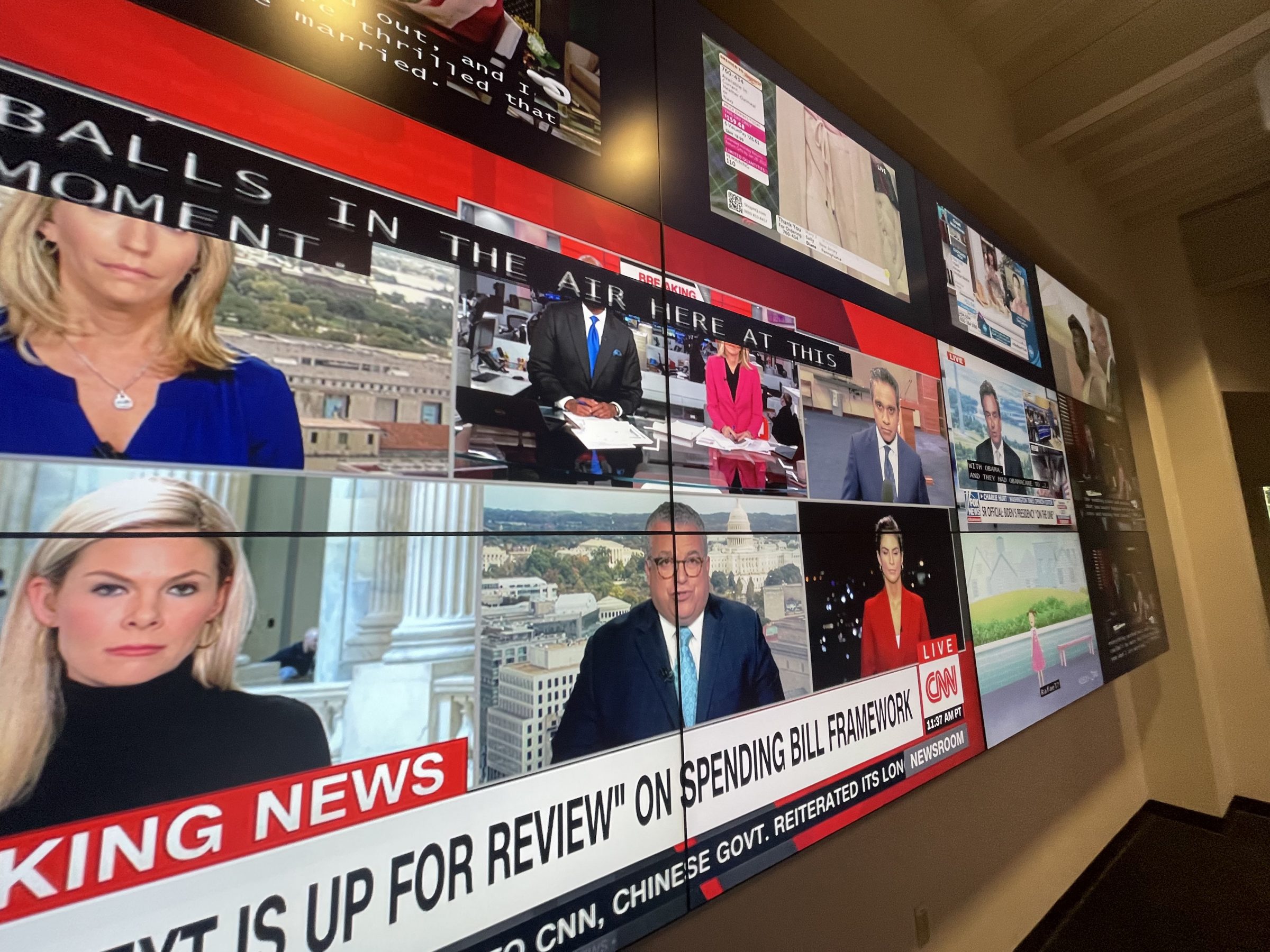 The entire audio-visual system is easily controlled by a 15" Crestron tabletop control panel. The panel is simple and intuitive, ensuring that anyone who enters the room can easily operate the system.
Given the nature of such a critical space, LightWerks implemented a 24/7 remote monitoring and support solution.  This ensures that the system has minimal, if no downtime, and that issues are proactively resolved, effectively eliminating the possibility of a technical issues in the case of an emergency situation.
AV technology is critical for making decisions and remaining aware during emergencies. When decision-makers come together and have access to the most up-to-date information, they generate faster, better conclusions. LightWerks integrated an AV system that supports responders as they collaborate, manage information, track and allocate resources, and support emergency response teams in the field or other operations centers.  LightWerks can design and install an audiovisual system for your Emergency Operations Center.
Contact your local LightWerks office in Boise, Los Angeles, Portland, San Diego, or the San Francisco Bay today, or fill in below form!