Education
LightWerks partners with elite Harbor Day school to install hybrid spaces
Harbor Day, the first independent school in Orange County, has been educating students in grades K-8 for over 65 years.  LightWerks partnered with this elite independent school to integrate state-of-the-art technology throughout their brand new, 66,000 square foot building.  The project involved over 61 rooms, including elementary and middle school classrooms, science labs, collaboration rooms, offices, art studios, a reading room, a computer lab, and a design lab. It also included various digital signage throughout the campus.  "Harbor Day School is excited to provide modern, flexible spaces and technologies that will invite collaborative and inspirational teaching and learning," said Angi Evans, Head of School.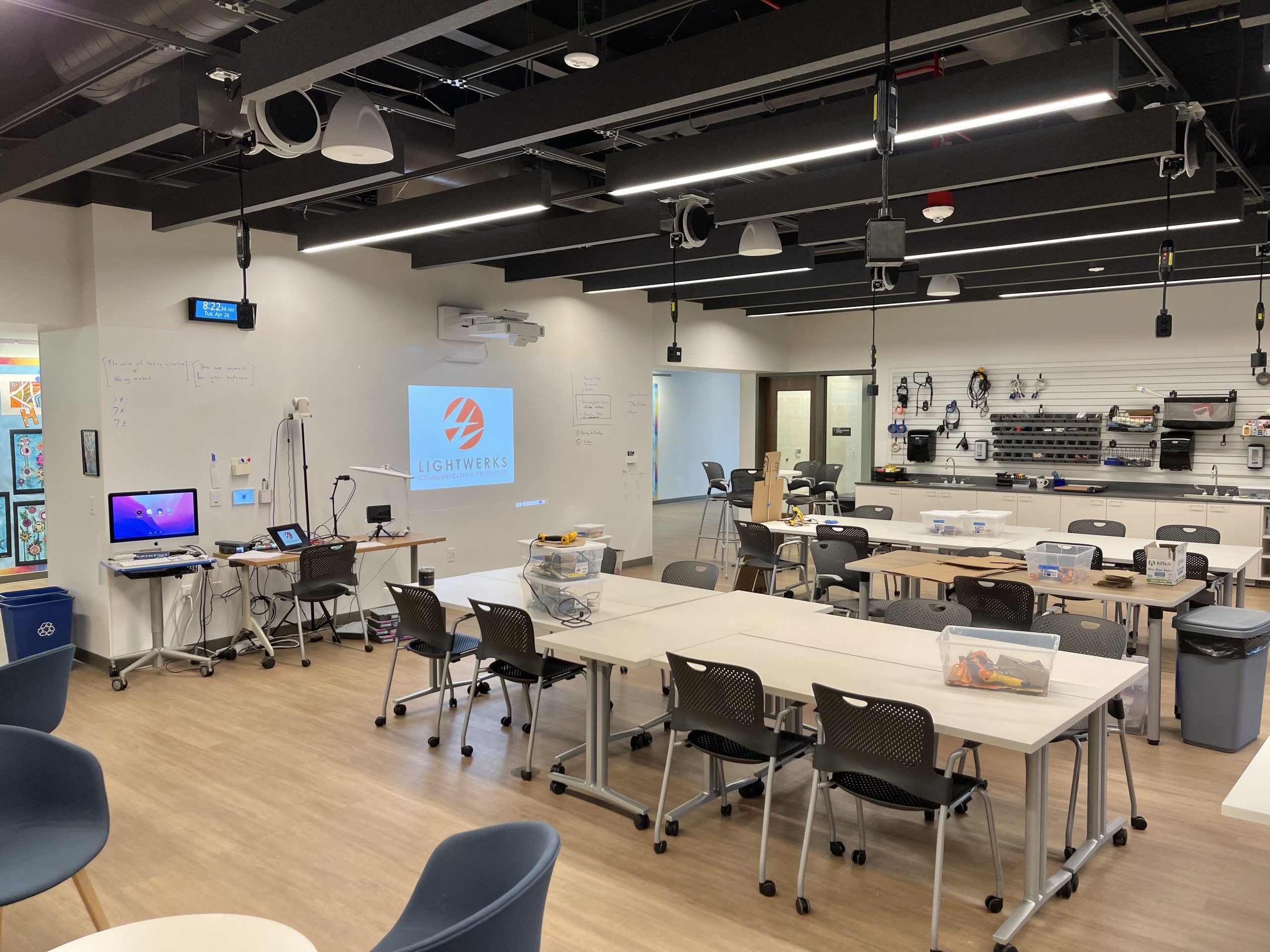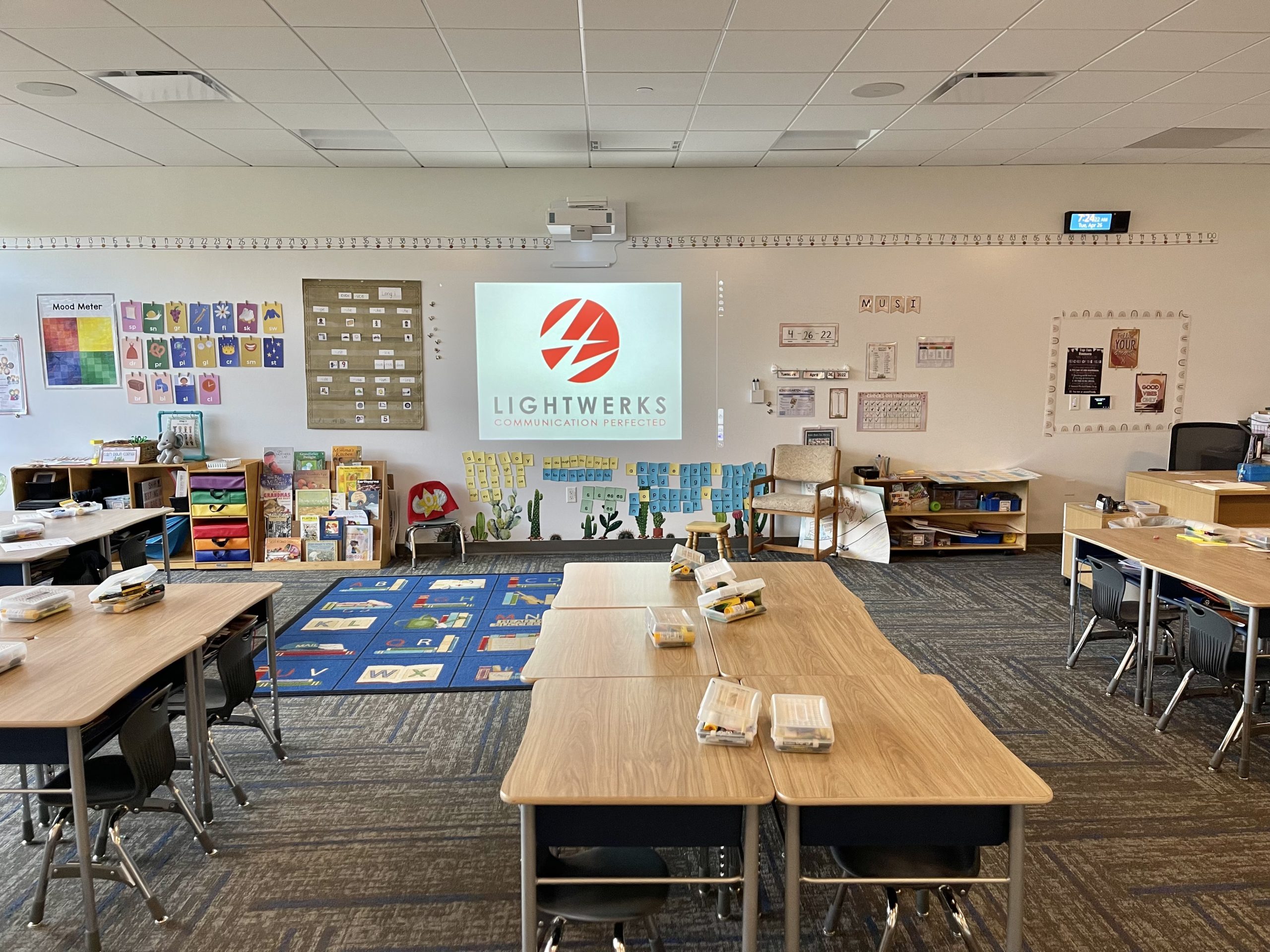 LightWerks integrated Epson BrightLink 1485fi interactive projectors into the elementary and middle school classrooms at Harbor Day.  The BrightLink projectors allow students and teachers to interact with content using both pen and finger touch.  Teachers simply connect their laptops to the HDMI and USB cables to present their content.  Rather than installing projector screens, classrooms were outfitted with Walltalkers magnetic, writable projection wallpaper. The sleek solution delivers a modern, seamless appearance, as well as impeccable resolution and high performance. Teachers can use their walls as a writable surface with dry-erase markers, as well as project onto the walls and use the digital pens /touch control.  Many teachers at Harbor Day take advantage of the magnetic surface to display various learning tools on the wall without the use of tape or push pins.  Classroom audio in the classrooms is supported by Crestron Saros ceiling speakers.  Audio and video control are easily managed via a customized Crestron touch panel, which allows teachers to route video as well as adjust volume and lighting.
In addition to the indoor classrooms, offices and transitional spaces, LightWerks also added technology to outdoor spaces at Harbor Day. The school transformed their courtyard space into a media center capable of hosting outdoor events and activities. LightWerks integrated 4 pairs of Community loudspeakers by Biamp in each corner of the elite independent school's stunningly designed, brand new courtyard space. The weather-resistant speakers boost precision and premium sound quality. The audio system is controlled by QSC via a Crestron touch panel. In addition to the 8 pole mounted speakers designed for full quad coverage, there are also 2 local audio input locations for local microphones, DJ equipment, or other performance audio equipment.
Situated in between several classrooms at Harbor Day are collaboration rooms. These areas, which allow for collaboration between classes, were designed as breakout spaces for small groups.  They allow for individual teaching, group projects, or even meetings.  The rooms include 65" NEC displays, Crestron Saros speakers, and a custom Crestron touch panel.
LightWerks integrated digital signage throughout the hallways and common areas, as well as in the main office of Harbor Day's new campus.  Sony 65" flat panel displays, paired with BrightSign digital signage technology were integrated to make information available to parents, visitors, school staff, and the student body.  School administrators can easily create, display, and manage general announcements, event schedules, wayfinding information, and even seasonal greetings.  The digital signage serves to add value to the connectedness of the school by reinforcing school values, building culture, and celebrating accomplishments.

On December 16, 2021, Harbor Day School held a ribbon cutting ceremony to celebrate the grand opening of their new school building.  The ceremony was attended by school faculty, staff, students, school families, Harbor Day Board of Trustees, and members of the community.  Student Council President and eighth grade student Durham Pelinka spoke during the ceremony and expressed his heartfelt appreciation for the new space. "I can say that on behalf of the entire student body, this building has been highly anticipated, and upon touring it, I was filled with gratitude for the amazing opportunity to learn in this new environment. To everyone who poured their heart and soul into every last detail of this building, one that will be home to countless future Harbor Day classes and lifelong memories, thank you." "With this new social infrastructure", said City Council member Will O' Neill, "we can expect intellectual growth to continue for decades to come.
Audio-visual technology has been proven to increase the quality of instruction and positively impact student learning experiences. LightWerks specializes in partnering with educational institutions to design and integrate technology solutions that not only add value to teaching and learning, but also contribute to the school's connectedness as a community. Our team collaborates with architects, construction firms, and of course school IT professionals and administration to ensure that our projects align to the strategic goals of the institutions with whom we partner. Contact us to learn more!
Contact your local LightWerks office in Boise, Los Angeles, Portland, San Diego, or the San Francisco Bay today, or fill in below form!