Corporate
Northwestern Mutual Revolutionizes its Los Angeles Space
LightWerks has a longstanding partnership with leading wealth management firm, Northwestern Mutual. This Fortune 500 financial security company has offices throughout the United States, and is one of the most admired insurance organizations in the U.S. Two years ago, Northwestern Mutual's Downtown Los Angeles office faced a lease expiration. The company identified this as an opportunity to reassess the way that their space was being used. CBRE formed an integrated team comprised of Advisory & Transaction Services, Workplace, and Project Management talent to best address Northwestern Mutual Los Angeles' needs. After conducting a comprehensive, six-month study that evaluated seat occupancy, meeting room and shared space use, and technology, it was determined that space was being underutilized and that technology was outdated. In addition, energy and collaboration was lacking. The private offices that filled the space were not only taking up space, but also discouraging collaboration and interaction among employees.
Northwestern Mutual's high level financial planning needed to be met with a more modern style of engagement. Their current office space exceeded their needs in terms of size, and the private offices contributing to square footage were discouraging interaction among employees. The firm created a plan to transition into a hoteling model which effectively consolidated their space from two-and-a-half floors to just one full floor in their new location, (a 38 percent reduction in overall space and a 30 percent reduction in real estate costs).
This free addressing model offers an alternative approach to the more traditional method of permanently assigned seating. By eliminating dedicated seating and private offices, the company sought to encourage mobility and collaboration with this more fluidly designed space. "We perceived our lease renewal as a prime opportunity to reimagine our space, build our culture and brand, and offer the best possible experience for our advisors and our clients," said Matthew Plocher, Managing Partner, Northwestern Mutual Los Angeles.
Northwestern Mutual partnered with LightWerks to design and integrate AV solutions throughout their new Downtown Los Angeles office. A stunning 2×2 video wall welcomes visitors to the 34th floor space, which boasts an abundance of natural light and exceptional views of the city. LightWerks helped create solutions throughout Northwestern Mutual to support and manage their mobile and collaborative environment. While there is no assigned seating, teams at Northwestern Mutual are organized into "zones' or "neighborhoods," and employees can seamlessly connect their screens to individual workstations.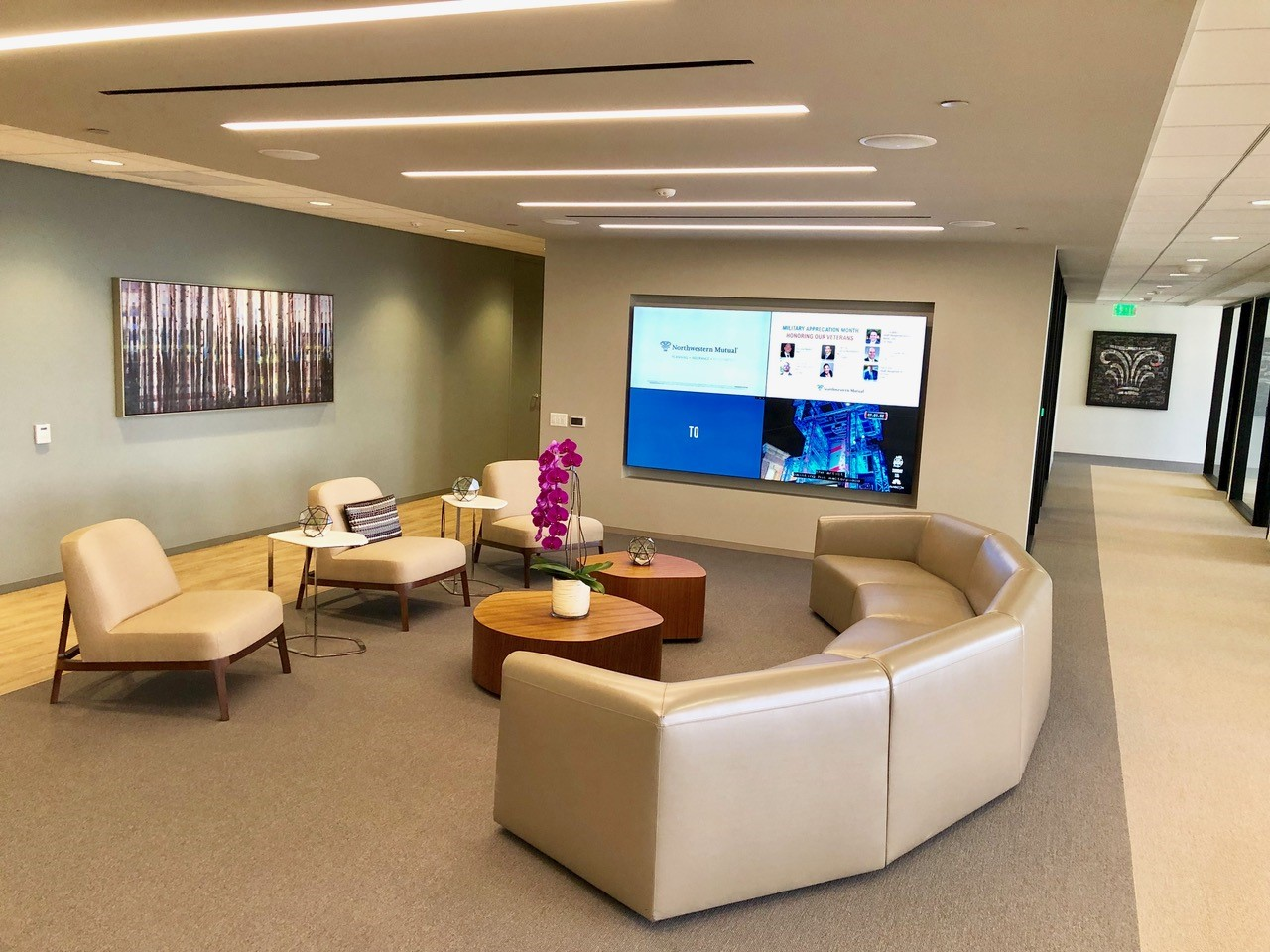 To accommodate privacy concerns, enclosed spaces, including large huddle rooms and client meeting spaces can be booked in advance via Microsoft Exchange. Teams and advisors can connect their individual devices to these rooms with ease. LightWerks integrated flat panel displays, touch screen room control, and video conferencing systems. In addition, illuminated, touch screen room availability indicators by Crestron were installed outside each of these collaborative spaces. Employees can easily determine if a room has been reserved via Exchange, or they can reserve rooms directly via the touchscreen. The platform provides Northwestern Mutual with an efficient, connected and collaborative reservation process across all meeting spaces.
Despite skepticism regarding the transition from a traditional to a more open environment, Northwestern Mutual employees are thriving. Surveys conducted by Northwestern mutual revealed that employees appreciate their new modern, flexible, and collaborative environment. They enjoy seeing their colleagues more often, and have observed an increase in energy throughout the space. "With more energy in the space, more collaboration and better technology," Fred Chang, Chief Financial Officer for Northwestern Mutual Los Angeles, explained, "we can enable our advisors to be more productive and more motivated."