What is a video wall?
A video wall (also known as display wall) is a large visualization surface consisting of multiple displays. Originally, they consisted of multiple televisions or monitors that were placed closely together. The objective was to make it seem like one large display surface.  Today's display wall solutions are generally created using tiled LCD panels, rear-projection cubes, or direct LED tiles.
The choice of the screen size depends on the typical content and the viewing distance. If watched from up close, the pixel density should be high enough to not see the individual pixels. The resolution is subject to the wall size. For example, a 4K video wall requires 4 Full HD screens in a 2 x 2 setup.
Typical  video wall application areas include control rooms, lobbies and reception areas, meeting spaces, hallways, retail environments, digital signage and other highly trafficked/ demanding environments including airports, hospitals, restaurants, and museums.
LCD video walls
An LCD video wall consists of multiple specifically designed LCD displays. Contrary to the panels used in television sets, these LCD displays have a very narrow bezel. This minimizes the gap between the panels, making it look like one big canvas. Over the years, this gap has gradually decreased.
LCD video walls are designed for long term and intensive use, often playing in a 24/7 mode — which means they are rarely switched off. The traditional benefits of LCD video wall solutions include the high brightness, good image quality, and relatively low cost. Typical markets for LCD display walls include meeting and crisis rooms, lobbies, and experience centers. You can also find them in the control rooms of traffic and security centers. Companies that offer LCD video walls are Sharp/NEC, LG, Samsung.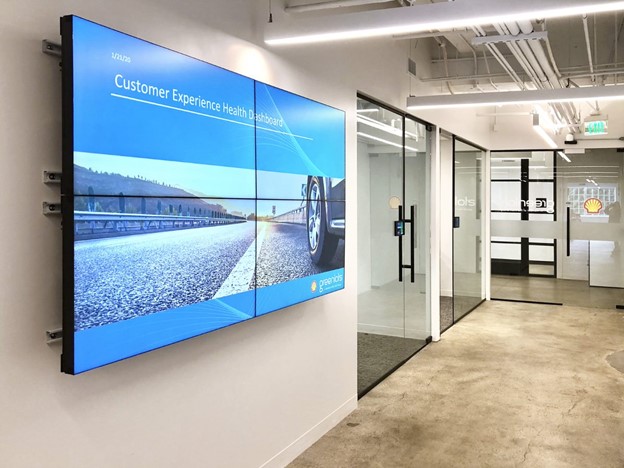 LED video walls
Direct-view LED technology is used to create the most impressive video walls. They are very bright, and are often not only used to inform or to collaborate, but also to wow audiences. For example in retail & advertisement settings, during spectacles or live performances, LED video walls are used. Due to recent price-drops for LED video walls, they have become in reach of most corporations to use in control rooms or corporate lobbies. The LED display tiles consist of many individual color LEDs. The pixel pitch can be quite large when they are watched from afar (for live performances for example), or very small (for control rooms or lobbies.)
The high brightness, absence of inter-tile gaps, and impressive colors are the main benefits of direct-view LED technology. Also the limited depth and weight can be important in certain settings. Companies that offer LED video walls are Planar, Nanolumens, Sharp/NEC, LG, Samsung.
Rear-projection video walls
Using projection instead of LCD or direct-view LED technology, rear-projection video walls target different applications. They are mainly used in control rooms that operate in a 24/7 mode. Utilities providers, for example, generally rely on rear-projection technology to monitor their network.
A rear-projection video wall consists of multiple cubes, which feature a projector and a screen. The projectors are positioned upwards. A mirror under a 45° angle then reflects the image and casts it onto the projection screen. In this way, the required depth is cut dramatically..
The benefits of this technology include the very high lifetime, the absence of burn-in effects, and the narrow gap between cubes. Companies that offer LCD video walls are Sharp/NEC, Epson, Christie.
The basic elements of compelling digital signage solutions include:
Authoring and Play-back Software: Whether the software is interactive or non-interactive and stored locally or in the cloud, LightWerks offers solutions from all the top brands. From using basic PowerPoint software to proper digital signage software specifically designed for this important application.
Large, Flat-Screen Displays or Video Walls: Whether the display technology is LCD, direct-view LED, micro-tiles, or some combination of the above
Signal Distribution: Whether the application involves AV-over-IP technology or a simpler point-to-point solution, LightWerks can recommend, design, and install the ideal option for you particular implementation. Using wired and/or wireless connectivity, we can make your system work in almost any physical environment.
Digital Signage Player: Probably the simplest element of the overall system, LightWerks will recommend the ideal, most cost-effective solution for your particular needs.
Content, Content, Content: Basic systems can be template-based, allowing clients to simply combine their own content with pre-designed layouts. This often including RSS feeds, live video, news, weather, and time. More sophisticated systems will allow clients to create custom content and layouts to best share their messaging. LightWerks can bring your own content providers together with professional outside resources to create the most compelling content imaginable.
Factors determining the video wall price
The cost is a main contributor to the selection of your video wall solution. Many factors need to be taken into account when calculating the cost of your video wall. Here are the main ones:
Technology: There are 3 main video wall technologies (described above), all with their specific benefits AND price tag. Historically, ultra narrow bezel LCD is the most economic option, followed by rear-projection cubes and direct-view LED displays. Price erosion on narrow pixel pitch LED video walls in recent years has brought this technology within reach of all corporations, so that new markets (including control rooms, corporate lobbies, television studios, etc.) can also benefit from LED.
Size: The cool thing about video walls is that they are modular, so they really take the size and aspect ratio you want. But it should be no surprise that large video walls cost more than small ones. Not only the price of the panels raises the costs: large video walls also need more driving controllers and processing power to handle the high resolution. This is a significant extra cost that should not be overlooked!
Support: The more panels, the heavier the video wall system becomes. This poses additional requirements on the supporting infrastructure. The heaviest load for rear-projection walls is on the floor, which is only rarely an issue. For LED walls and LCD video walls, on the other hand, it is the supporting wall that catches the full load. It may need some additional support to handle the pressure.
Total cost of ownership (TCO): The initial investment is of course the most visible cost, but don't forget to calculate the operating costs as well. This includes the cost for electricity and consumables (like cooling fans and color wheels). LightWerks integrates video wall displays that are built to be as cost-effective as possible, with as few moving parts (that are susceptible to wear) as possible.
Service and repair costs: Even high-quality video walls can have unlikely issues. This can be minor or severe, but there is always a cost. For the financial department, cost predictability is very important. That is why LightWerks offers a number of comprehensive service packages, ensuring minimal downtime at a fixed cost.
Simple to complex, site-based to a national roll-out… LightWerks can integrate all of the elements of a digital signage system into a beautiful representation of your brand, your values, and your messages.
We're constantly updating our cloud-based digital signage options to keep them on the leading edge. Please share your information below and one of our representatives will be in touch to provide you a custom quote ASAP for digital signage solutions.