From Conference Rooms to Classrooms…Video EVERYWHERE!
For the presentations of Lightwerks second annual virtual trade show, "Communicating and Collaborating in a Connected World: From Conference Rooms to Classrooms…Video EVERYWHERE! go

HERE

!
Changes in how we work, teach, and heal are here to stay.  This event was designed to offer insights on how to implement the most effective tools and approaches to ensure optimal communication and collaboration, while being mindful of doing so in the most efficient and equitable fashion.
The event highlighted the "Who's Who" of audiovisual technology vendors and will offer LightWerks customers an exclusive opportunity to evaluate the industry's latest, state-of-the-art solutions that have been developed to effectively communicate and collaborate at work and at school.

And this year's keynote presenter –

author, educator, and thought-leader Phil Simon

– shared his incisive perspective on reimagining how we can best collaborate in the post-COVID world of work, education, and healthcare. Find his presentation

HERE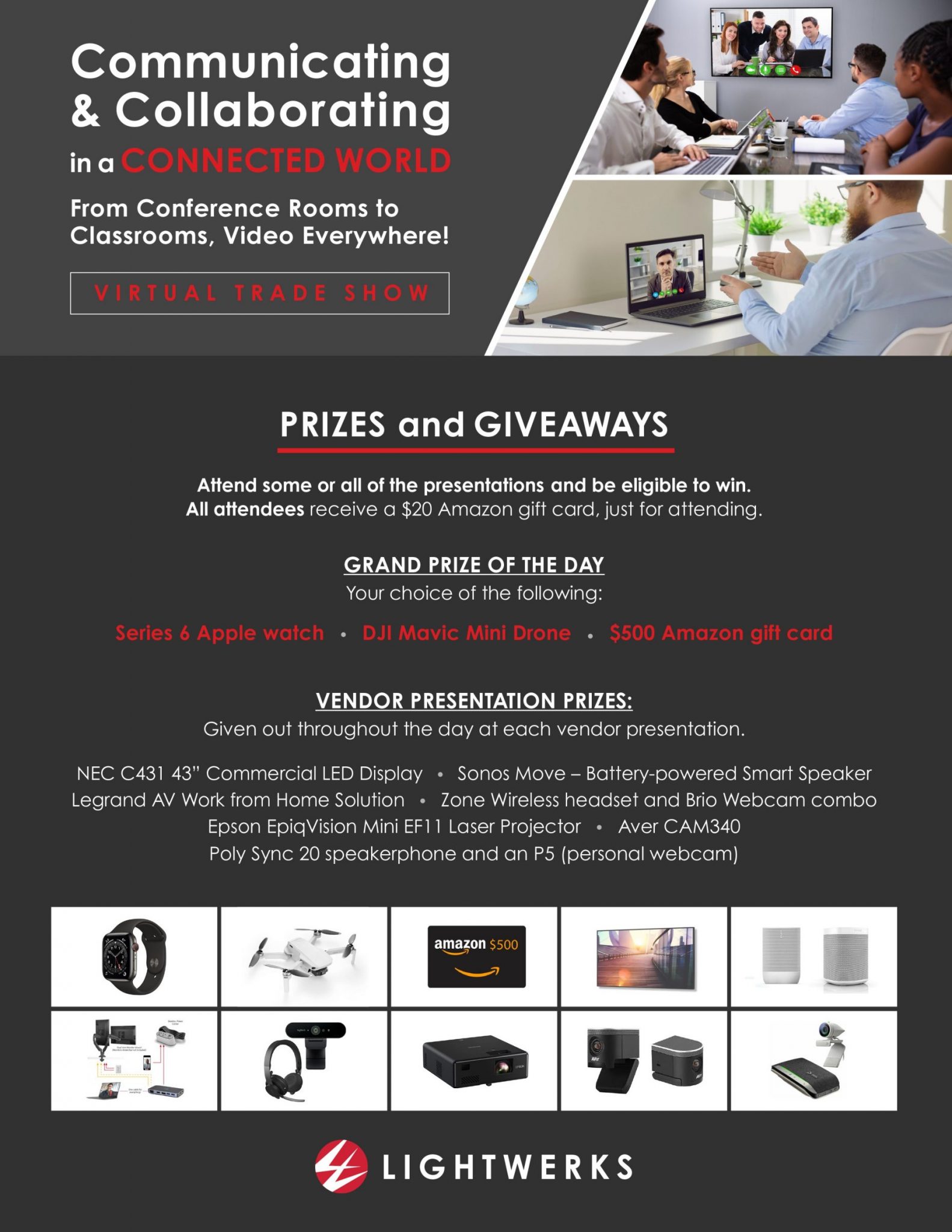 * Eligibility to win various prizes subject to the following terms and conditions:
All attendees who attend two or more complete vendor presentations will receive a $20 Amazon gift card.  People who RSVPed but do not attend the event will not be eligible.
Participants need to register through an email with an US based organization's email domain. Additional restrictions may apply, and are at the discretion of LightWerks Communications Systems.
Must be present during vendor presentation prize drawings.
Must attend a minimum total of 2 hours of the event to be eligible for the grand prize drawings.  Winners do not need to be present at time of drawing.
Winners of prizes that must be physically shipped to the winner must provide a shipping address within the 48 contiguous US states.
Attendees may opt out of receiving prizes.
Other terms and conditions may apply.
Terms are subject to change without notice.