Sony Electronics is a leading provider of audio/video electronics and information technology products for the consumer and professional markets. Operations include research and development, engineering, sales, marketing, distribution, and customer service.
Sony's range of Sony Professional Displays features HD, 4K, and 8K resolution models with screen sizes to suit every application. Ideal for digital signage, screen mirroring, and a range of professional solutions, our displays feature a range of innovative LCD, HDR, and OLED display technologies for superior image quality with easy operation, extensive integration options, and low ownership costs.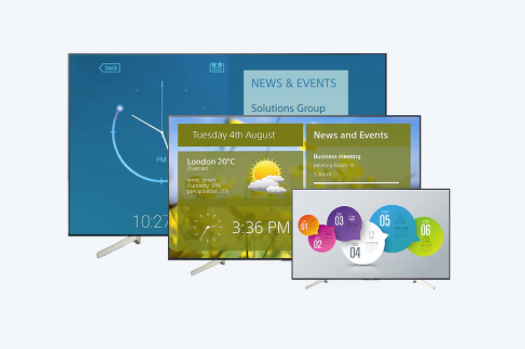 Talk to us about Sony and
your AV Needs
"*" indicates required fields
Sony Crystal LED Video Walls
Sony Crystal LED Video Walls Ultra-fine micro-LED panels tile seamlessly to create extraordinary visual experiences of any size with spectacular brightness and contrast.
BRAVIA 4K Professional Displays
Sony BRAVIA Professional Displays combine bright beautiful images in resolutions up to 8K, with easy operation and extensive integration options for any application.
Let's go to work. Big, bright BRAVIA 4K Professional Displays streamline meeting efficiency and add impact to all your business communications in boardrooms, reception areas, and cafeterias.
Make meetings more productive and give your visual communications a more competitive edge with the latest BRAVIA Professional Displays. Add impact to presentations, signage, video conferencing, and collaborative projects with superb 4K resolution HDR image quality. Work smarter with business-focused features, flexible integration, and very attractive ownership costs.
Engage every student and tighten collaboration with our bright, beautiful 4K Professional Displays for universities, colleges, and schools.
Available in a wide range of screen sizes to suit every classroom or lecture theater, BRAVIA Professional Displays bring learning to life with bright, detail-packed 4K HDR pictures and easy content sharing. Ensure everyone's informed with attractive, colorful signage. Keep costs in check with energy-saving features.

Latest Videos