Customer-Specific Packages
Why Re-invent the wheel?
LightWerks specializes in designing customer specific room-type packages.
As customers need to rapidly add video capabilities throughout their facilities, LightWerks has found that there is a great benefit in standardizing packages for their specific room-types.  Our elegant process promotes a maximum desired effect that can be achieved with the smallest, or simplest effort.  Customer specific room-type packages increase overall efficiency and add value towards cost-effectiveness, support/servicing, ease of use/training, and aesthetics.
Standards Development
Cost effective– Standardizing room types eliminates the need to repeatedly go through the design process. This proactive approach to AV minimizes programming and engineering expenses, thus significantly reducing client costs, and maximizing their return on investment over time.
Support and servicing– When support technicians know what technology is in each room, needs and expectations for managing each space are clear. This allows the team to support end-users in a highly efficient manner.   Consistency in room types allows for support teams to easily support, troubleshoot, and, if necessary, replace components of the system.
Ease of use/training– Standardized room types create a uniform user experience across an organization.  This consistent logic throughout the system makes it easier for end-users to enter any space and feel confident and productive with the technology. End-user training is simplified when a uniform experience is created across rooms within an organization.  Rather than requiring several individual trainings for each space, trainings can be simplified and consolidated.
Aesthetics – In addition to the efficiency of our custom room packages, there is an elegance in the cohesiveness of uniform systems across an organization.  Our team specializes in working closely with clients, as well as partnering architects and design teams to create top quality systems and customized user interfaces that are visually aligned with their brand.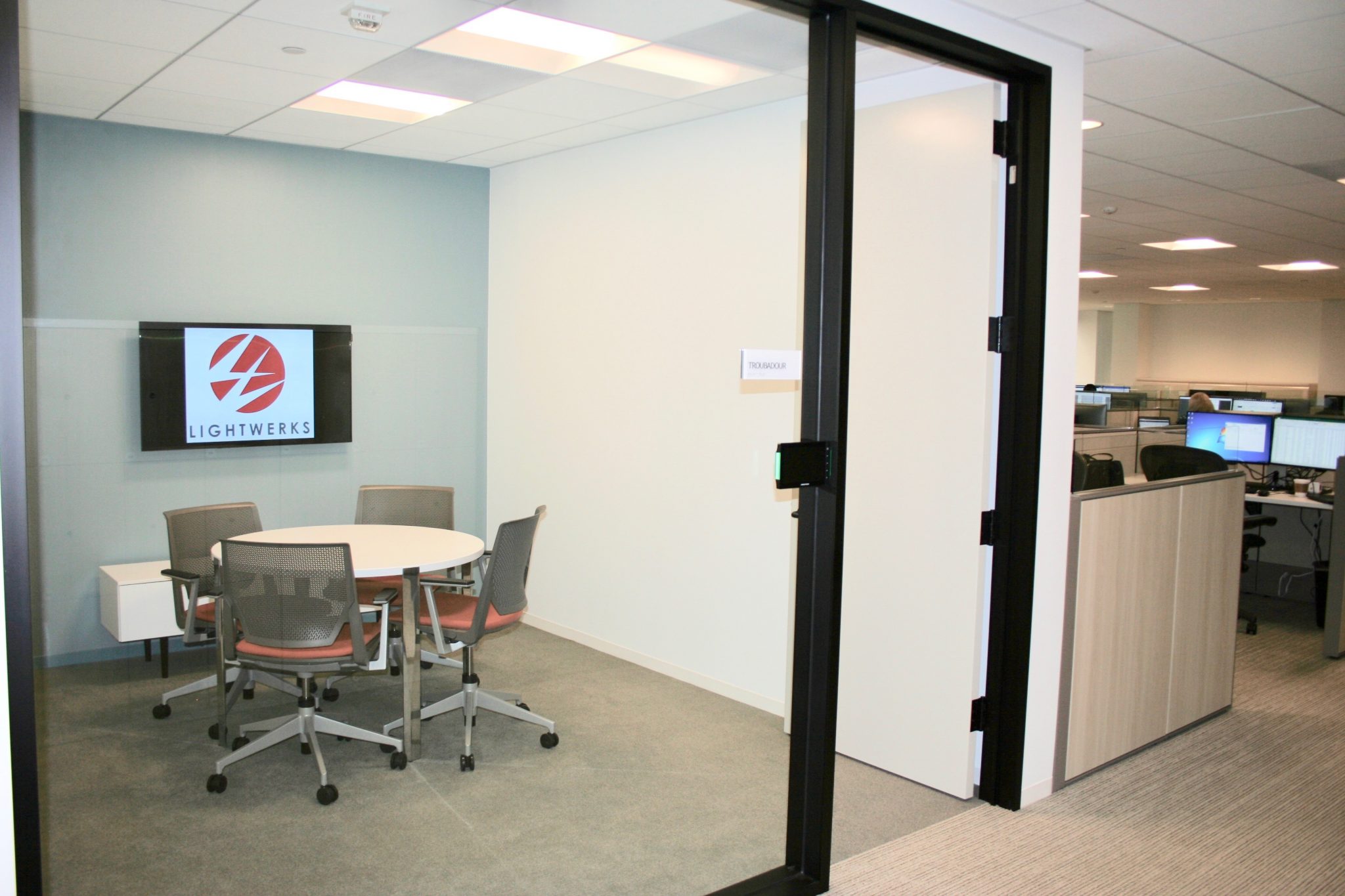 Leading hospital, Cedars Sinai Medical Center, has over 250 Southern California locations.  The hospital, which is ranked #6 nationally, consists of thousands of meeting and conferencing spaces across the greater Los Angeles area.  Prior to LightWerks designing custom packages for the organization, much of the AV at Cedars Sinai was being installed by each department independently.  Different hardware was being utilized in different locations, and supporting the different types of hardware in the multiple locations was a challenge.  Cedars Sinai needed trusted manufactures and trusted AV designs.  LightWerks partnered with Cedars Sinai to design several custom meeting room types, including huddle spaces, small to medium sized conferencing spaces, multipurpose rooms, and boardrooms.  The standardization allows the internal team to support their spaces, and also streamlines their approval process, bypassing what can be a lengthy and costly new design processes.  Additionally, the standards create a uniform experience for end users. No matter what department someone comes from, they can walk into a room and know how to use the technology. They are familiar with the hardware and controls.
Huddle space package
55" NEC display
Chief wall mount (OSHPB compliant)
Logitech Brio (small webcam with built in microphone)
Barco ClickShare CX 30 for wireless mirroring
End-users bring in their laptops to host meetings
Small to medium sized conference room package
65" NEC display
Chief wall mount
Logitech Meet Up Sound Bar with built in camera and microphone
Barco ClickShare CX 30 for wireless mirroring of content
End-users bring in their laptops to host meetings
Multipurpose room package
75"-86" NEC display
Chief wall mount
Logitech PTZ Rally Camera
Zoom Room computer in the room
Crestron Flex- tabletop touch screen with built microphone, speakerphone, and HDMI connection.
Bringing laptop is optional because these rooms have a built in PC in the Crestron Flex system that is tied to Teams or Zoom. The laptop can connect to any conferencing service.
Boardroom room package
75"-86" NEC display
Chief wall mount
Barco ClickShare CX 30 for wireless mirroring of content
Aver conferencing cameras
Shure MXA 910 ceiling microphone
Crestron ceiling speakers
Crestron touch panel
Multiple HDMI inputs
End-users bring in their laptops to host meetings
LightWerks partnered with UCLA to develop 5 standard Zoom Room packages that create uniformity between video conferencing solutions throughout the campus.   The "Transfer," "Freshman," "Sophomore," "Junior," and "Senior" packages offer end-users the advantage of familiarity as they utilize different spaces.  In addition to being user-friendly, the standardization allows the rooms to be easily to managed by IT.
Transfer Package
55" DTEN all in one video conferencing solution
Heckler mobile cart
Freshman Package- Huddle Room
55" NEC display
Chief wall mount
Crestron Flex Kit- Small Room

UC-SB1-Cam-all in one video conference smart soundbar (microphone, camera and speaker)
Crestron TS1070 touchscreen
Chief Wall mount

Crestron UC engine and a PC
Sophomore Package-Conference Room
Dual 65" displays
Chief wall mounts
Crestron Flex Kit – Medium Room

Mercury Tabletop Touch Panel- microphone, speaker, control panel
Huddly camera on top of displays

Crestron UC engine and a PC
Junior Package- Board Room
Dual 75" NEC displays
Chief wall mounts
Aver PTZ camera
8 Crestron Saros speakers
2 Shure MXA910 ceiling mounted microphones
Crestron TSW 1070 touch panel
Crestron UC engine and a PC
Senior Package- All hands/Training Room
Dual 86" NEC displays in the front of the room
Chief wall mounts
1 Aver PTZ in the front of the room
1 Aver PTZ in the back of the room
Shure handheld microphone
Shure lavalier microphones
2 MXA 910 ceiling microphones by Shure
8 Crestron Saros speakers on the ceiling
2 55" confidence monitors in the back of the room
Custom programmed iPad to control room with Crestron App
Middle Atlantic equipment rack
Crestron, Biamp, and Dell micro computer technologies to run these rooms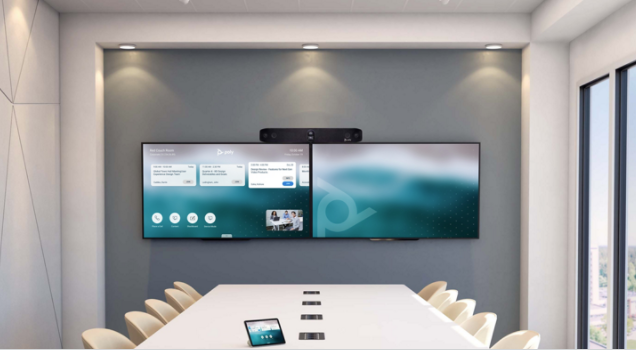 Semiconductor Manufacturer
LightWerks partnered with a top manufacturer of materials engineering solutions to update their facilities with state-of-the-art video conferencing solutions. The company needed to create a standard for hybrid spaces to accommodate remote and in-person meeting collaboration. The project involved over 300 BYOD style conferencing rooms, and included the development of a small and large conference room package that is easily reproduced, managed, and operated.
Small conference room package
Poly Studio USB Soundbars -These systems include a speaker, microphone, and camera, and support group framing and automatic speaker tracking
Large conference room package
Crestron Mercury tabletop conferencing systems with swivel kit mount (The Mercury's built-in Air Media gateway enables secure, wireless presentation on the room's display from a laptop, smartphone, or tablet.)
Huddly IQ cameras (The Huddly provides full-HD 150° wide-angle video and a 5-element microphone array.)
For more information on customer specific packages, please contact your local LightWerks office in Boise, Los Angeles, Portland, or the San Francisco Bay today, or fill in below form!