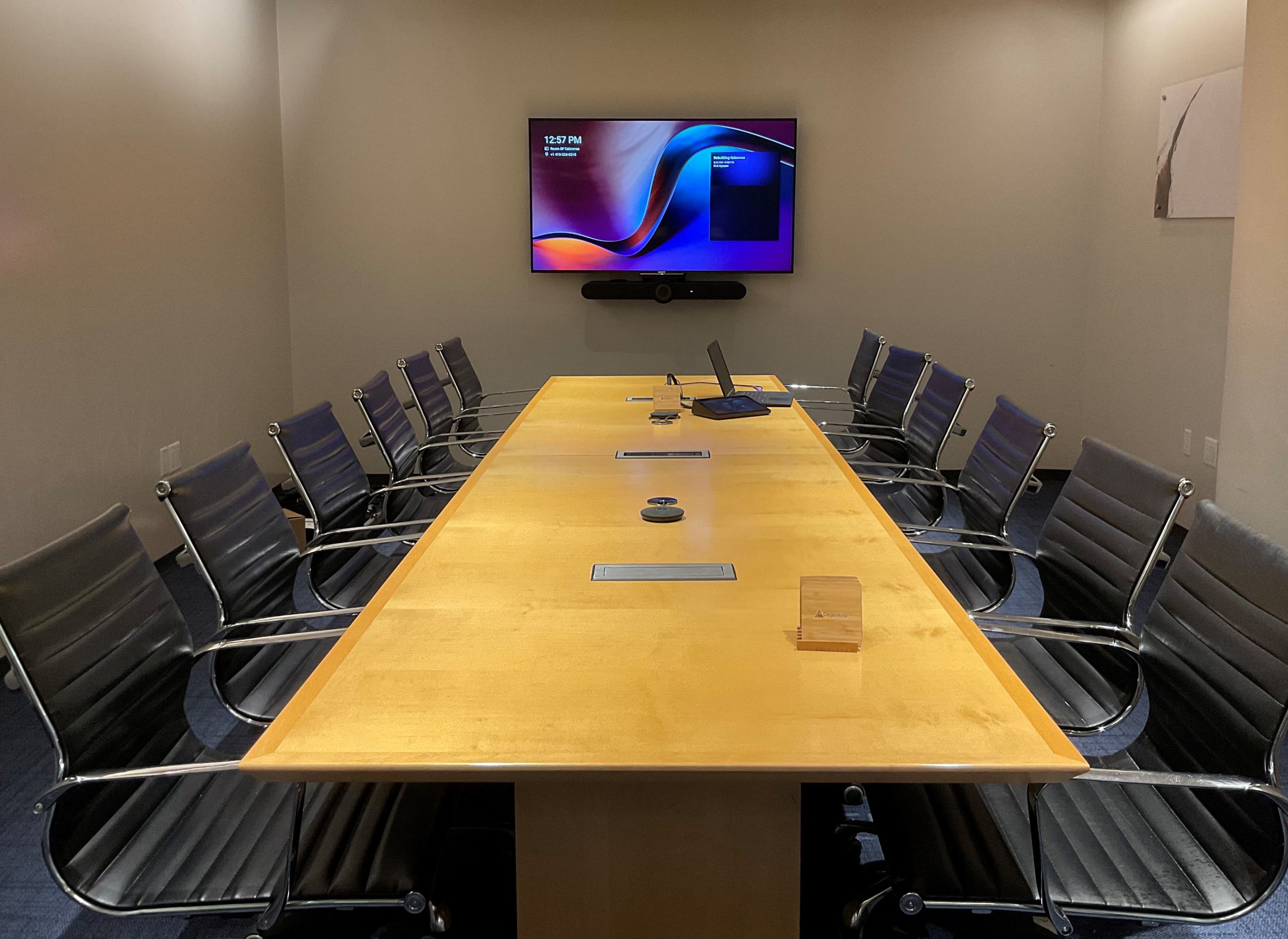 Need a conference room design planning? LightWerks can help you decide what audio visual technology you need in a conference room to make sure it is used to its full potential. What technology should you include in your conference room? Are you prepared for hybrid meetings?
Conferencing Technologies
Video conferencing is everywhere now, with many cloud-based video conferencing systems (like Zoom,  Microsoft Teams or Google Meet) making it easy to connect anyone, anywhere, on any device. When used in conjunction with your conference room display and audio system, you can bridge the gap between distances during hybrid meetings to share audio, see others, and even display content such as presentations, spreadsheets, videos, and more.
Displays or Projectors
The majority of conference rooms need a display or projector to show content, typically from a laptop or computer for presentations or work sessions. A great new option is an interactive digital display or projector, such as a SMART Board or EPSON Brightlink, because they allow you to brainstorm and whiteboard in a digital format…making it easy to save and share meeting notes. There are a lot of great HD display options, 3D options, interactive options, and more. As hybrid meetings become more and more relevant, many organizations will consider installing two displays in order to display remote participants on one panel, and shared content on the other.
Audio
Planning to show videos, engage in video conferencing / hybrid meetings, or give a presentation where audio is needed? We recommend in-ceiling speakers and microphones in your conference room design, to make sure everyone in the room (or on the conference call) can hear you.
Control Systems
Make sure anyone entering your conference room can easily control your AV system by installing a touch panel. A control panel integrates all the functionality you need into a single interface. These can be push-button, digital, and even through an app on your iPad.
Room Scheduling 
Meeting room booking systems provide simple tools for reserving conference rooms and other spaces or resources within an office or shared workplace.  This software ensures that organizers and attendees have the necessary accommodations for important meetings, and at the same time, office managers maintain an accurate, up-to-date view of how company resources are being utilized. 
LightWerks can evaluate your conference rooms, and make recommendations for technology that will best suit the needs of your organization.
Contact us at LightWerks today for more information on what we can do for your organization!