Digital Signage Solutions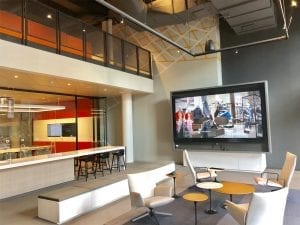 Everywhere we go, we see digital signage that gives us needed information, guides us on our way, makes us feel welcome, or keeps us safe.
Digital signage is a form of electronic display that shows any sort of information. Digital signage utilizes technologies such as LCD, LED, plasma displays, or projected images to display content. Lobbies, hospitals, stores, restaurants, theaters, lecture halls, airports, libraries have digital signage showing up on nearly every wall.
LightWerks can help you with any digital signage solutions & digital signage installation, including:
Single-screen implementations: We can install simple, lobby-based systems to welcome your visitors by name, to share real-time, dynamic content
Multi-screen solutions: We can create a system that will bring your important messages to lobbies, break rooms, training areas, and other work-spaces to perform a variety of functions, such as:
Way-finding
Marketing and HR messaging
Emergency notification
Campus-wide roll-outs: Often involving multiple buildings, large roll-outs can be hugely important implementations for corporate or educational institutions. They require the highest level of digital signage design and implementation expertise.
The basic elements of compelling digital signage solutions include:
Authoring and Play-back Software: Whether the software is interactive or non-interactive and stored locally or in the cloud, LightWerks offers solutions from all the top brands. From using basic PowerPoint software to proper digital signage software specifically designed for this important application.
Large, Flat-Screen Displays or Video Walls: Whether the display technology is LCD, direct-view LED, micro-tiles, or some combination of the above
Signal Distribution: Whether the application involves AV-over-IP technology or a simpler point-to-point solution, LightWerks can recommend, design, and install the ideal option for you particular implementation. Using wired and/or wireless connectivity, we can make your system work in almost any physical environment.
Digital Signage Player: Probably the simplest element of the overall system, LightWerks will recommend the ideal, most cost-effective solution for your particular needs.
Content, Content, Content: Basic systems can be template-based, allowing clients to simply combine their own content with pre-designed layouts. This often including RSS feeds, live video, news, weather, and time. More sophisticated systems will allow clients to create custom content and layouts to best share their messaging. LightWerks can bring your own content providers together with professional outside resources to create the most compelling content imaginable.
Simple to complex, site-based to a national roll-out… LightWerks can integrate all of the elements of a digital signage system into a beautiful representation of your brand, your values, and your messages.
We're constantly updating our cloud-based digital signage options to keep them on the leading edge. Please share your information below and one of our representatives will be in touch to provide you a custom quote ASAP for digital signage solutions and digital signage installation.