Multi Purpose Room AV Solutions
Multi-purpose rooms provide educational institutions with a large-scale, flexible meeting spaces that can serve a variety of purposes. For example they can serve as the cafeteria, training facility, gaming space, or another conference room space for casual meetings. Many multi-purpose rooms are designed and programmed to be divided or combined. In order to support their use, multipurpose spaces will typically need to have multiple displays (perhaps a projector or two at the front of the room and flat panels along the side walls), properly-tuned audio systems for excellent voice intelligibility and program audio reproduction, wireless microphones for presenters and audience members, sophisticated audio- and video-conferencing capability for meetings which may be shared between multiple locations, recording capability for later play-back, and custom programmed control systems for better control of equipment. Lighting, shades, and air conditioning control are often incorporated into the user's touch control interface.
For a case study on hybrid training spaces at a large corporate client, click HERE!
Typical Multi Purpose Room AV Elements:
■ Interactive 85" Flat Panel Display or projection system mounted in a lift
■ Multiple 75" Flat Panel Displays throughout space
■ In-ceiling and/or in-wall speakers
■ Pan-Tilt-Zoom video conferencing camera
■ Document camera or ceiling visualizer
■ Ceiling microphone(s)
■ Wireless microphones
■ Audio DSP ("digital signal-processing") for optimal sound
■ Custom-programmed table-top control system with touch-panel
graphical user interface
■ All mounting hardware
■ Appropriate cabled- and wireless- source connections
■ Lectern
■ Equipment rack (if needed)
■ Cloud-conference subscription
■ Professional Installation
■ LightWerks TLC Maintenance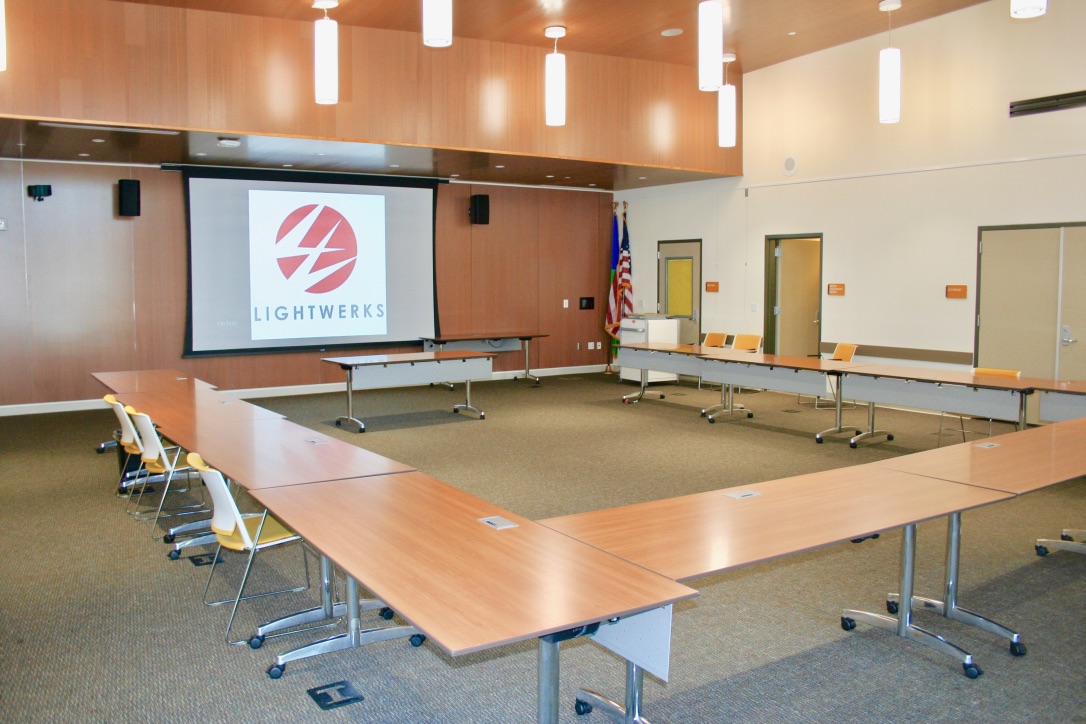 Contact us at LightWerks. We are here to offer you the best multi purpose room AV solutions.