Biotech and medical device companies rely on audio visual technology to ensure that their groundbreaking scientific research, development, and manufacturing operations run smoothly and effectively.  LightWerks has partnered with numerous leading pharmaceutical and biotech organizations to design and integrate reliable, state-of-the-art AV systems for meeting spaces, training centers, laboratories, conference rooms, hybrid meeting spaces, board rooms, and lobbies. Through our partnerships with key industry leaders, we are able to deliver dynamic, reliable video conferencing and collaboration capabilities, digital signage, advanced audio, recording and streaming capabilities, and personal communication equipment securely to a variety of biotech and medical device institutions. We can categorize the spaces in the biotech arena by a variety of room types. Below you'll find a description of the most common room types, what they include, what they cost, and what is needed by LightWerks to professionally install appropriate collaboration technology at your location(s). 
Talk to us about
your AV Needs
"*" indicates required fields
First impressions really count, so many

Biotech and medical device

compan

ies

make a special effort to have a welcoming, and often impressive, reception area. These spaces usually include at least one large flat panel and a digital signage player to welcome guests and share company promotional information. Many will also include speakers to provide audio to go along with their video content, and some will also include interactive capabilities to allow visitors to interact with the information shown on the flat panel display(s). As this room is typically in use all day and most displays can be programmed internally to turn on and off at specific times each day, reception areas do not usually require any sort of dedicated control system.
A conference room is a room provided for singular events such as business meetings and conferences. It can be found in almost any kind of establishment – businesses, schools, hospitals, and government institutions. A medium-sized conference room typically seats 6 to 12 people and is most often used for scheduled meetings. These spaces usually include a flat panel display, audio and video-conferencing capability, a variety of connections for desktop computers, laptops, tablets, and phones, and some type of centralized control capability to turn equipment on and off and switch between sources.
A Boardroom is typically used by senior management, or may be used as a primary space for meeting with and closing business with major clients. It is usually a one-of-a-kind type space within an institution. Because of the importance of the business conducted in this space, a Boardroom will typically have higher grade equipment than other conference rooms, including larger
and higher resolution flat panel displays or projection systems, superior audio and video-conferencing equipment, power screens, power lifts to hide or reveal equipment, more sophisticated digital routing capability, and a more  sophisticated, graphically impressive control system.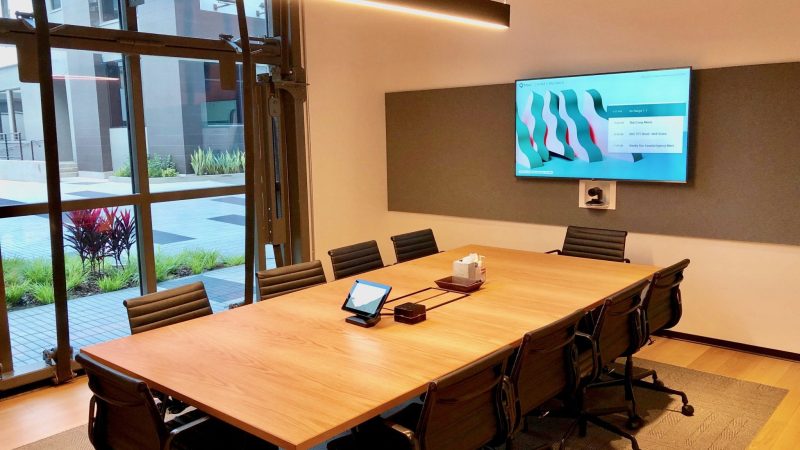 Medical company labs

serve as integral spaces for the

research,

discovery

,

and generation of

groundbreaking solutions in

medicine.  These

spaces rely heavily on

state-of-the-art

technologies that

have revolutionized laboratory operations,

allow

ing

for optimal

investigation and research

, and

powering the pharmaceutical pipeline by driving innovation to address unmet medical needs. 

Medical labs

often include

digital signage, advanced audio, conferencing solutions,

AV system control

,

and

visualizer technologies

.