Corporate
Hybrid Conferencing Spaces created by LightWerks
Consisting of more than 220 firms with over 42,000 employees in 130 countries, Crowe LLP is the 9th largest global accounting network in the world by revenue. Effective communication is a critical component in day to day activities at the firm, which includes employees working both in the office and from home.  The organization's Woodland Hills, California office needed a solution to conduct board meetings, face-to-face meetings with colleagues, and stream video conferences and large scale presentations from any part of the world.  As part of an initiative to streamline the efficiency of its global communication, Crowe partnered with LightWerks to integrate hybrid conferencing spaces. Consisting of several small conference rooms, and one large conferencing room, the systems, which were all designed for a Bring Your Own Device (BYOD) environment, provide seamless integration and ease of use without the need for technical supervision.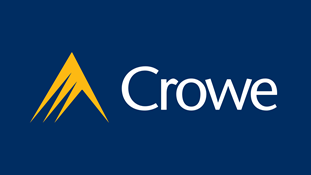 LightWerks integrated 65" and 75" ultra high definition Samsung displays in Crowe LLP's small conference rooms. Sharing content wirelessly is made simple using the Barco ClickShare.  Anyone, including guests, can connect with one click and share their content right away, without the need for any training. Users simply plug a USB-powered device, the ClickShare Button, into their PC or Mac and click the button to get the content from their laptop on the meeting room display. With the ClickShare Apps, users can also share content from their laptops, mobile phones, or tablets. Tabletop Jabra microphone and speaker systems were integrated into the spaces for audio conferencing.  These professional, stationary speakerphones offer crystal clear sound and seamless connectivity via USB, Bluetooth or 3.5mm connection to laptop or smartphone.  Operation of the AV system is made simple via a wall mounted Extron touch control panel.
An 85" 4K Samsung flat panel is used to display content in Crowe LLP's large conference room. Video conferencing is made simple using Bose's Videobar VB1.  This all-in-one USB device consists of a 4K ultra HD camera, 6 beam steering microphones, and signature Bose sound quality speakers.  This practical and simple conferencing solution makes hybrid meetings easy initiate and manage.
In order to share content wirelessly and engage in video conferencing, LightWerks integrated the Mersive Solstice Pod solution.  The Solstice Pod is the core collaboration platform in the large conferencing space that allows users to share content, collaborate, and connect web conferences to the room display and meeting room technology. The Solstice Pod attaches to the local WiFi/Ethernet network, room display, and room's audio/video and wirelessly connects the room display, camera, and audio to the web conference.  Users can easily share, arrange, and markup content while remote participants see everything happening in the room.  A wall mounted Extron control panel makes operation of the AV system simple and accessible.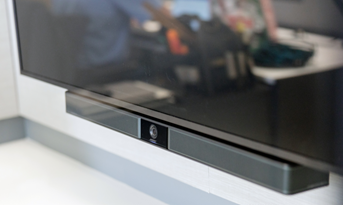 LightWerks was able to streamline Crowe's video conferencing capabilities with more modern, easy-to-use, BYOD technology and reach their goal of creating an integrated audio visual solution.
Contact your local LightWerks office in Boise, Los Angeles, Portland, San Diego, or the San Francisco Bay today, or fill in below form!