Education
Shure Microphones offer complete audio coverage for classrooms at UCLA
LightWerks partnered with

UCLA

to integrate state of the art audio technology throughout the classrooms at the Anderson School of Business. Their choice of microphones was

Shure MXA920 ceiling array microphones

. The sleek and powerful microphones are used to capture and record audio from the audience and speaker/ professor for hybrid learning via Zoom.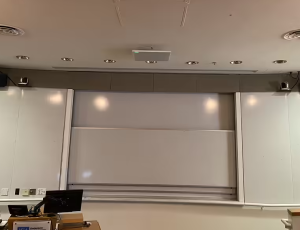 With next-generation array architecture for enhanced directional pickup and more natural speech, the

Shure MXA920 ceiling array microphone

is easy to use and quick to deploy for AV conferencing, camera tracking, voice lift, or sound reinforcement. Shure's Automatic Coverage™ technology requires no setup yet gives you precise control of audio capture if desired. As you can see in this UCLA classroom, the ceiling microphone fits in perfectly with the surroundings.
Classroom audio is supported by

SHURE MXA-920 ceiling microphones

.  The array architecture of the solution allows for enhanced directional pickup and more natural speech so that students and instructors are clearly captured during hybrid learning. See video below for a Coverage Area demonstration.
The hybrid learning enabled classrooms at University of California, Los Angeles enable the school to best prepare and educate their diverse student body. LightWerks specializes in adapting teaching and learning environments to create flexible and dynamic learning spaces.  Contact your local LightWerks office in Boise, Los Angeles, Portland, San Diego, or the San Francisco Bay today, or fill in below form!