AV Engineering, Design, Programming, Installation, Training, and Service Certifications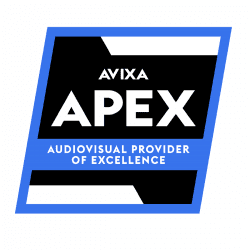 At LightWerks, we believe that being professionally certified is crucial to a high-quality audio visual system integration. Our expert AV team has completed a wide variety of certification programs to ensure that the engineering, design, programming, installation, and training for your AV system is
DONE RIGHT … EVERY TIME.
.
We have team members holding current certifications in the following:
AMX Design Certification
AMX Programming Certification
Audinate Dante Level 1 Certification
AutoCAD – Certification Training
Avigilon Control Center (ACC) 6 Certification
AVIXA (formerly Infocomm) – 4Ps Certification
AVIXA (formerly Infocomm) – Apex Certification
AVIXA (formerly Infocomm) – CTS (Certified Technical Specialist)
AVIXA (formerly Infocomm) – CTS-D (Certified Technical Specialist – Design)
AVIXA (formerly Infocomm) – CTS-I (Certified Technical Specialist – Installation)
AVIXA (formerly Infocomm) – DES213 – AV Design Level 2: Infrastructure
AVIXA (formerly Infocomm) – DES214 – AV Design Level 1: Environment
AVIXA (formerly Infocomm) – Essentials of AV Technology Online
AVIXA (formerly Infocomm) PMA211 – Project Management for AV
AVIXA (formerly Infocomm) – Project Management for AV
Biamp – Audia
Biamp – Nexia
Biamp – Tesira
Biamp – TesiraFORTE
Biamp – TesiraLUX
Biamp – VoIP Certification – Level 1
BOSE – CEDIA Bootcamp
BOSE – ControlSpace Designer V5
California C-7 Contractors License
Cal/OSHA Compliance Training
Canon – Certified Projector Professional
Chief – Certified Partner
Christie – MicroTiles On-Line and Instructor Led Training Certification
Cisco – Express Certified
Cisco – Select Certified
Cisco – SMB Solutions for Account Managers (Exam 650-179)
Cisco Spark Services
Cisco – Video Solutions Sales Representative (Exam 700-001)
ClearOne – Certified Technical Specialist
ClearOne – Media Collaboration Technical Specialist
ClearOne – Professional Collaborate Video Conferencing Products Technical Certification
ClearOne – Professional Conferencing Products Technical Specialist
ClearOne – Professional Collaborate Video Conferencing Products Technical Certification
ClearOne – Professional Conferencing Products Technical Certification
Control4 – Basic Networking
Control4 – Fundamentals
Control4 – Lighting Fundamentals
Control4 – Next Generation Wireless Lighting Controls
Crestron – Certified Master Programmer – Silver Level
Crestron – Commercial System Design (CTI-CSD)
Crestron – Digital Media Certification – Designer 4K
Crestron – Digital Media Certification – Engineer 4K
Crestron – Digital Media Certification – NVX
Crestron – Digital Media Certification – Streaming
Crestron – Digital Media Certification – Technician 4K
Crestron – Shading Solutions – Designer
Crestron – Shading Solutions – Technician
Dante Certification
Epson – BrightLink Pro Collaborative Whiteboard Sales Training
Epson – Integrator Certification
Extron – AV Associate
Extron – AV Systems Design
EPA – Lead-Based Paint, Renovation
Extron – Certified Control Associate
Extron – Certified Control Professional
Extron – Configurable Control Systems
Extron – Certified Control Specialist
Extron – Certified Programmer
Extron – Certified XTP Systems Design Engineer
Extron – Certified XTP Systems Technician
Extron – IP Link Certification
Extron – Maintaining the Video Signal
Extron – School of Configurable Control Systems
Extron – School of Emerging Technology
Extron – School of Global Configurator
Extron – Video Signals: Analog vs. Digital
Google – Educator Certification
Hilti – Qualified Operator – Powder Actuated Tools
IMSE Comprehensive Orton-Gillingham Training
ISF Commerical Display Technology & Calibration Certification
Kramer – Digital Display Signals
Lead-Based Paint Training
Mersive Solstice Training & Certification
OSHA 10 Construction Certification
Peavey – MediaMatrix NION Web Training Modules 1, 2, 3, 4a, 5 & 6
Perspectives on Digital Video Connectivity
Planar – Clarity Matrix LCD Video Wall System Installation
Polycom – Microsoft Voice Endpoints (MVOPEOT200)
Polycom – Video Endpoints (RPEOT200)
Polycom – Voice Endpoints (VSOT200)
QSC Audio Q-SYS Platform Level 2 Certified
Revolabs – Certified Specialist
Revolabs – Installing Revolabs Wireless Systems (Authorized Installer)
RM Easiteach – Certified Trainer
Samsung Digital Signage Certification
SHURE Microflex Wireless Advanced Training
SMART 8000i-G4 Series Interactive Flat Panel
SMART amp Collaborative Learning Software
SMART Bridgit Conferencing Software
SMART-Certified Education Consultant
SMART-Certified Education Professional (SCEP)
SMART-Certified Sales Professional for Business (SCSP-B)
SMART-Certified Sales Professional – Education (SCSP-E)
SMART-Certified Technical Professional – Hardware
SMART-Certified Technical Professional – Software
SMART-Certified Trainer for Notebook (Mac and PC)
SMART Education Consultant
SMART Education Software Professional
SMART Factory-Trained DViT (Digital Vision Touch) Level 2 Technician
SMART Factory-Trained Installer (SFTI) for Enterprise Solutions
SMART Factory-Trained Technician
SMART kapp Interactive Whiteboard
SMART kapp-IQ Interactive Display Board
SMART Notebook Technical Training
SMART Room System Installation Certification
SMART Room System Presale Technical Training
SMART Room System for Microsoft Lync Certification
SMART Systems Engineering – SMART Meeting Pro
SMART Sync Classroom Management Software
SMART Table 442i Collaborative Learning Center
TV One – HD Interfaces: A Multiple Choice Approach
Vaddio – AutoTrak 2.0 Camera Tracking Certification
Vaddio – AVBridge Matrix Pro
West Penn Wire – Fiber Optic Installation Course
WilsonPro Technical Training
Zoom Partner Certification – H.323/SIP
Zoom Partner Certification – Zoom Meetings
Zoom Partner Certification – Zoom Rooms
Zoom Room Certified Integration Partner
Zoom Rooms Implementation Integrator