Corporate
Innovative solution for meeting spaces at Degenkolb Engineers
LightWerks partnered with

Degenkolb Engineers

to provide an innovative solution for their meeting spaces. The organization required a seamless, one-touch-join solution that could easily adapt to BYOD and also include room schedulers. To meet these requirements, Logitech's state-of-the-art solutions were the perfect match.
The solution includes 65″

Sony displays

and

Logitech conferencing technology

that comprises of Rally Bars, touch panels, tabletop microphones, and room schedulers. The integration of Swytch cables allows laptops to connect to the room systems' AV equipment for use with any video meeting or webinar.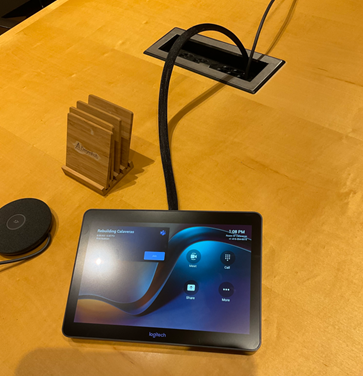 The new Logitech solutions have drastically improved the hybrid meeting experience, providing a hassle-free, high-quality audio and video experience. The ease of use of the one-touch-join solution has also eased the IT team's support load.
Logitech Rally Bar

delivers a powerful all-in-one video conferencing experience, featuring brilliant optics, automated PTZ, and high performance audio for midsize meeting rooms. With Rally Bar, video meetings can be just as natural and productive as face-to-face collaboration.
Logitech Tap Meeting Room Touch Controller delivers one-touch join, calendar integration, instant content sharing, and a consistent experience across meeting rooms.
Logitech Mic Pod microphones

auto levels voices, suppresses background noise, and dampens. Individual pods contain multiple beamforming elements to capture speech, not distractions.
vibration for clear audio
With a spacious screen and sleek, unobtrusive profile,

Logitech Tap Scheduler

is designed for easy viewing and usability. Complete with glass, mullion, and wall mounts, Tap Scheduler can be conveniently installed outside any room. Its built-in cable management hides cables for a clean and professional look. This purpose built scheduling panel integrates with solutions from Microsoft Teams, Zoom Rooms, Robin, and Meetio to signal availability from a distance, and provide meeting details up close.
LightWerks' innovative integration of Microsoft Teams Rooms and Logitech Solutions has revolutionized the way Degenkolb Engineers conduct their meetings. If you want to elevate your hybrid meetings, contact LightWerks today to learn more about our cutting-edge solutions.
Contact your local LightWerks office in Boise, Los Angeles, Portland, San Diego, or the San Francisco Bay today, or fill in below form!