Corporate
LightWerks Designs State-of-the-Art Training Facility
LightWerks partnered with leading semi-conductor manufacturer,

Applied Materials

, to create a state-of-the-art training facility at their Santa Clara, CA corporate campus. The goal of this refresh was to incorporate BYOD video conferencing to all of their AGU meeting rooms. This unique, flexible, video conferencing space involves 4 rooms that operate either independently, or combine to form one large, unified space.
Each of the combinable rooms includes dual

QSC Q-SYS IP cameras

. Positioned in the front and back of each room, the cameras ensure that both the presenter and audience are captured for recording, streaming, and collaboration via

Microsoft Teams

. The NC-12×80 cameras include 12x optical zoom and an 80° horizontal field of view. They include a 4K image sensor with the ability to output a 1080p stream for better, clearer, and crisper images.
The new training rooms include

DSP audio from QSC Q-SYS

, as well as

Shure MX ceiling microphones

that ensure perfect, high-quality coverage for all training room participants. Superior graphics are produced via high-definition

NEC projectors.
LightWerks integrated wall mounted HDMI and USB inputs into each training space. Utilizing

Crestron

routing, the connections seamlessly connect the room audio and cameras to the meeting participants' laptops.
Switching between different modes of use and controlling the components within the system is made simple using wall mounted

QSC Q-SYS touch panels

. These intuitively designed, high-resolution, touch displays make it easy to operate the complex system.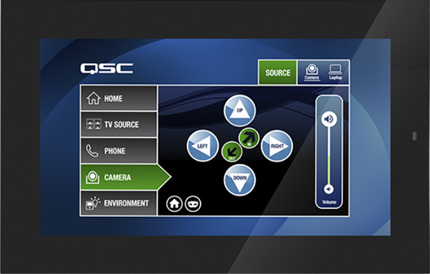 Training rooms are environments where people meet, learn, share ideas, and collaborate. These spaces are intended to accommodate a wide range of activities, and must be designed and outfitted with flexibility in mind. LightWerks specializes in integrating innovative and flexible technology solutions. Contact us to learn more about how we can partner with your organization to create a dynamic training space.