Corporate
LightWerks Partners with Github to Standardize Hybrid Meeting Spaces
LightWerks partnered with internet hosting service provider, GitHub, to integrate state-of-the-art video conferencing technology in their Bellevue, WA offices. The 16-room project, which is part of a nationwide rollout, included Neat Bars running Zoom for Zoom Rooms, Neat Pads controlling the systems, and an additional Neat Pad acting as a scheduler.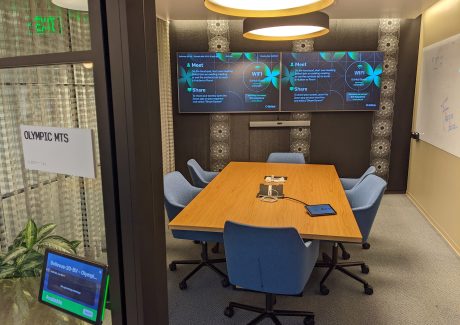 The Neat solution replaced the company's purpose-built devices, which were far more complicated to operate, manage, and support. Standardizing on Neat has allowed Github's IT department to manage the daily needs of their spaces more efficiently. The Neat devices make it simple to update and troubleshoot the rooms, increasing meeting room up-time.
The sleek Neat Bar delivers a powerful solution for Github's meeting rooms that makes it easy for users to simply walk into a room and start a meeting, so they can focus on the meeting experience rather than troubleshooting or installing the solutions. With just one tap, end-users can wirelessly share their screens or start their meetings.   In addition to empowering end-users to confidently operate their spaces with minimal support, Neat's technology supports equity and inclusion in hybrid meetings, ensuring that all users, remote and in the offices, are represented. It instinctively frames participants perfectly, and auto releases the room when individuals leave.

Working together, LightWerks and Github created office spaces with technology that fits the needs of its employees across the nation, whether they are in the office or remote. As a proud partner with Github, LightWerks will continue to push the envelope of what is possible and create the best environment for collaboration and inclusivity.
Contact your local LightWerks office in Boise, Los Angeles, Portland, San Diego, or the San Francisco Bay today, or fill in below form!