Education, Healthcare /Medical
LightWerks Partners with WSU to Modernize Global Animal Health Building
LightWerks partnered with Washington State University to integrate state of the art technology in their Washington Animal Disease Diagnostic Laboratory. The 61,000 square foot, three-story flagship research building houses a state-of-the-art infectious disease research center for investigating existing and emerging diseases throughout the world.  The facility includes instructional venues, collaboration spaces, a high-bay necropsy suite, and specialized labs for testing, research, and development.
Technologies include large format displays, visualizer systems to stream for viewing and recording procedure teaching demonstrations, professional audio, in-room cameras, a paging system, and control systems featuring touch panel controls.
Central to the success of this project was LightWerks' ability to deliver a forward-thinking scheme that would accommodate future technological advances and support the University's reputation as a center of excellence with world-class teaching resources.
The first floor of the Washington Animal Disease Diagnostic Laboratory includes a Small and Large Necropsy Area and a Teaching Theater.  LightWerks integrated a 98" NEC display and 2 75" NEC displays in the Small Necropsy area.  In the Large Necropsy area, 2 65" portrait style NEC displays are mounted on each side of a large freezer.  All of the displays are housed in waterproof enclosures.  Connectivity in the Necropsy Suite is supported by 2 Extron transmitter receiver ports that allow users to connect their devices via HDMI, VGA, or analog audio. Content from these ports can be displayed on any flat panel in the Necropsy Suite or Teaching Theater.  The powerful displays offer state-of-the-art streaming, viewing and content distribution to create a collaborative and interactive learning environment across the new veterinary school facility.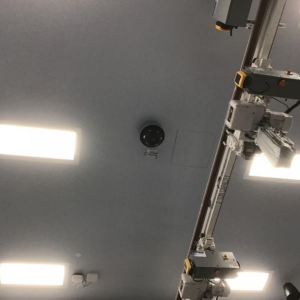 A Shure MXA 910 ceiling microphone is used to pick-up audio from the Necropsy Lab and Small Animal Necropsy areas to be routed back to the Teaching Theater systems. QSC pendant speakers are used for audio in the Large Necropsy area and QSC ceiling speakers are used in the Small Necropsy and Teaching Theater.  The Necropsy Lab and Teaching Theater use an NVX Crestron system for video distribution, Biamp for audio processing, and Crestron for amplification and control.
The Teaching Theater includes an impressive video wall made up of 6 55" NEC displays. Each display includes a decoder card slot, allowing the unit to receive NVX content shared from the Teaching Theater or the Necropsy Lab.  Any content from the cameras or computers inside the facility can be displayed on each individual display, or across the entire video wall.  LightWerks installed a ceiling mounted Vaddio camera over the dissection table.  A Crestron control panel makes it easy to zoom in and out to view content and display it on the screens.
The Necropsy Suite and Teaching Theater support recording via an Extron SMP 352.  Anything on the cameras can go the NVX system, and route to the recorder.  This content can be used for future teaching.
Meeting spaces, lounge areas and classrooms are located on the second and third floor of the Washington Animal Disease Diagnostic Laboratory.  LightWerks integrated 55" NEC displays and side mounted speakers in 22 lounge areas, classrooms, and huddle rooms.  Conference spaces were outfitted with 98" displays, Nureva soundbars, and UC engines.  These spaces include Aver cameras and tabletop connections for individual devices. A 10" Crestron touch panel allows for easy control of these systems.
In order to establish a communications system throughout the facility, LightWerks integrated a Bogan paging system with Atlas speakers. The 100 speaker paging system spans across three floors of the building.
LightWerks delivered a powerful, future-proof, integrated audio visual solution for the Washington Animal Disease Diagnostic Laboratory.  Contact us to learn how we can work with your organization to design and integrate AV systems for pioneering educational environments. We are experts at providing technological resources that deliver dynamic teaching and learning experiences and accommodate forthcoming advances and evolving needs.
Contact your local LightWerks office in Boise, Los Angeles, Portland, San Diego, or the San Francisco Bay today, or fill in below form!