Corporate
Streamlining the Legal and Judicial Process with Hybrid Meetings
LightWerks partnered with one of the nation's most prestigious law firms, Holland & Knight, to integrate state-of-the-art technology in their brand new, flagship downtown Portland, Oregon offices.  The premier international law firm, which employs more than 1,600 lawyers and has over 30 offices in the United States, Europe, and Latin America needed a solution for hybrid Zoom meetings so that attorneys, clients and other professionals could remain connected, collaborative, productive, and engaged regardless of their location. Several meeting spaces were involved in the integration, including a multipurpose room and small and medium conferencing spaces. The project modernized Holland & Knight's presentation, video conference, and audio conference capabilities, and served as a pilot for future hybrid meeting room integrations in other Holland & Knight locations.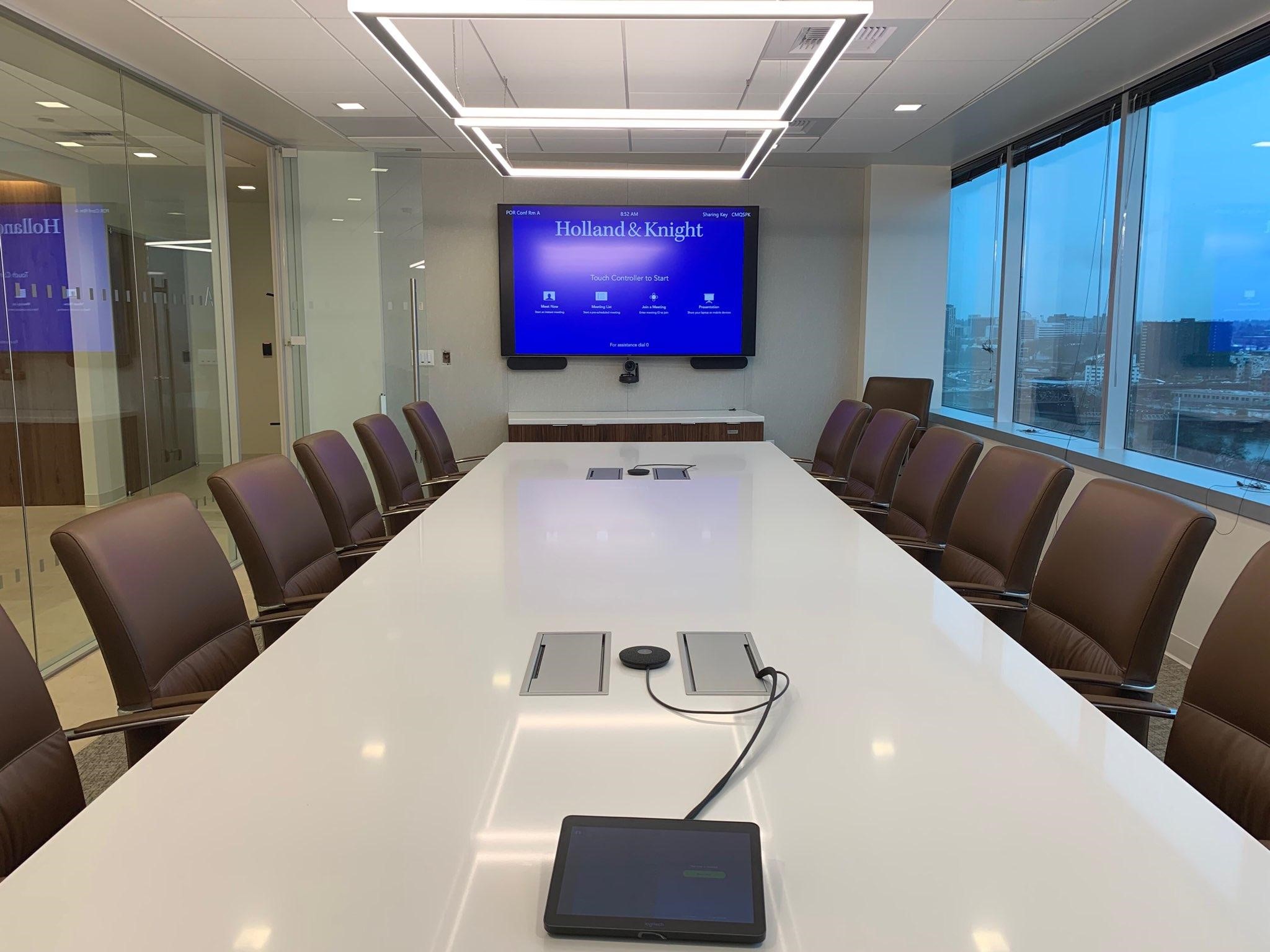 LightWerks installed dual 98" Samsung displays in Holland & Knight's multipurpose room, allowing for remote participants to be viewed on one screen, while shared content is simultaneously displayed on the other. Users can present their content via a wired connection or wirelessly through the Zoom Rooms application. Two Logitech Rally conferencing cameras give remote participants a view of both the presenter and the audience during hybrid meetings. Using AI, human perception, and automated PTZ, the Rally cameras adapt to meeting dynamics and keep the cameras on the action.  Audio in the multipurpose room is supported by Shure ceiling microphones and Crestron speakers, as well as Biamp DSP.  The system is driven by a Crestron control processor system and matrix switcher.  The user-friendly, wall mounted touch panel makes starting meetings and managing the AV system simple, allowing partners to focus on the agenda rather than the technology.   In addition to the wall mounted touch panel, an iPad with the Crestron app was integrated into the system for wireless AV system control.
LightWerks outfitted small and medium conference rooms at Holland & Knight with 75" and 85" Samsung displays and Logitech Zoom Room kits.  The modular systems offer crystal clear, room filling sound supported by 2 ultra-low distortion speakers and 2 exquisitely sensitive tabletop microphone pods, ensuring every voice is heard. The kit also includes a PC, a 4K Rally Plus conferencing camera, and a tap control panel. The Zoom Rooms application gives users the option to present their content via a wired or wireless connection. The simple to use solution allows the team at Holland & Knight to start their meetings with just one touch. The law firm's staff can easily operate the rooms, and have had great success with this state-of-the-art upgrade.
The use of video conferencing technology has revolutionized legal services, both at the law firm and judicial level. LightWerks specializes in designing and installing systems that allow firms such as Holland & Knight to enjoy the ability to communicate with experts for depositions, witnesses, and fellow counsel without the added costs and time associated with travel.
Our simplified content sharing and meeting control solutions make meetings faster and easier to join, as well as more effective. Some of our customers are large firms which need to have collaboration capabilities across offices.
Contact your local LightWerks office in Boise, Los Angeles, Portland, San Diego, or the San Francisco Bay today, or fill in below form!