Corporate
Treasure Valley Baptist Church updates Technology
LightWerks partnered with Treasure Valley Baptist church in Meridian, Idaho to upgrade the technology in their worship center.  The project included the integration of projection, microphones, speakers, cameras, and internet streaming capabilities, allowing the church to stream services to their members around the world via YouTube Live.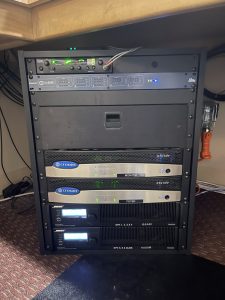 Three cameras provide multiple viewing angles for the congregation, as well as streaming participants.  To provide members with a detailed view of services, LightWerks integrated image magnification technology (IMAG).   IMAG refers to large-scale theatrical or concert video projection that enables audience members seated at great distance from the stage to see details of the performer's body language and facial expressions that could not be seen with the unaided eye.
An Extron ISS 608 True Seamless 4k/60 HDMI switcher allows for seamless switching between sources with no delay, and includes a preview output to set up the image prior to sending it to the projector. Matrix switching is supported by an Extron DXP 1616 HD 4K Plus matrix switcher.  An Extron TLP 725T touch panel was integrated for source routing.
LightWerks understands the importance of technical excellence in every worship service, and we are experts in house of worship AV system design and installation. Our high performing audio visual solutions bring excitement and joy to audiences near and far.
Regardless of the size of your project, LightWerks will balance technical performance with your budget to offer an AV system that will serve your unique needs. Our experienced sales, engineer, installation, and support team are eager to offer you innovative solutions that blend the latest in AV technology with creative strategies. Contact us to learn more!
Contact your local LightWerks office in Boise, Los Angeles, Portland, San Diego, or the San Francisco Bay today, or fill in below form!