Highlights from InfoComm 2022
Last week, it was clear that the Pro AV industry was back in full-force.  From June 8-10, thousands of individuals from the audio visual industry filled the Las Vegas Convention Center to attend InfoComm 2022.
The event involved a buzzing trade show floor, inspirational education sessions, lively networking events, and much more. The show welcomed 19,681 verified attendees from more than 110 countries and all 50 U.S states, and 522 exhibitors showcased innovative pro AV products and solutions across 294,500 square feet of the trade show floor.
"InfoComm is the only place in North America where the entire ecosystem of the pro AV industry gathers – from manufacturers to distributors to integrators to end users," said David Labuskes, CTS, CAE, RCDD, CEO of AVIXA. "This week we saw thousands of AV professionals make the trip to Las Vegas to learn from each other and experience innovative technology in person. AVIXA is proud to play host to such an incredible group of industry professionals as they spent their week advancing their businesses and careers and gaining inspiration to take home with them."
Crestron Showcases How to Achieve an Inclusive and Equitable Hybrid Work Experience with the Sightline Room
In the modern work era, meetings are more successful when everyone is fully connected. For employees, this means an inclusive meeting experience that empowers everyone to participate rather than observe. For companies, this means creating meeting room environments that drive productivity and connections.  While video conferencing has expanded workers' capabilities to meet, it often leaves remote participants missing the big picture while in-room participants struggle to connect with the people next to them and pay attention to the person on the monitor.
Crestron demonstrated its Sightline room experience at InfoComm 2022, bringing the core platforms of Crestron together to create an enhanced meeting experience. The demo room features multiple displays and cameras on all four walls of the meeting room, and makes use of core Crestron product platforms in a bid to make meetings inclusive and equitable. Intelligent video solutions are at the heart of the Crestron Sightline room. Speakers are actively tracked and framed, and multiple displays offer improved visibility of remote participants.
Sightline incorporates Crestron Flex, Digital Workplace technologies, DigitalMedia content distribution as well as control and management for an improved meeting experience through more natural conversation and improved collaboration across organizations either in-office or remotely. A Crestron Sightline room uses speakers that are actively tracked and framed, with multiple displays to offer improved visibility of remote participants.
Sightline technology can also be scaled for different room sizes, incorporating multi-camera intelligent video, Flex video conferencing solutions, AirMedia wireless presentation, DM NVX AvoIP technology, and DM content distribution.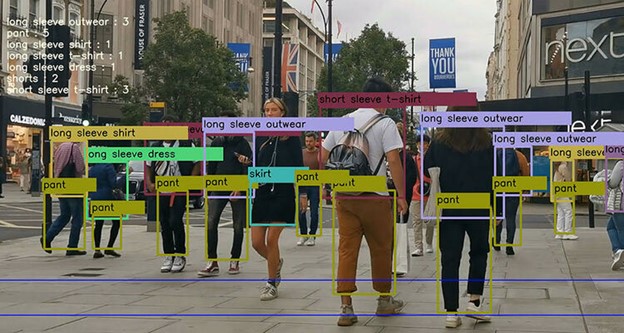 Sharp/NEC debuts NaViSense computer vision technology
Sharp NEC Display Solutions unveiled its NaViSense computer vision technology, in partnership with Guise AI. The solution allows the gathering of anonymous customer attributes using off-the-shelf or existing camera sources and processing them through a variety of edge computing devices such as RPi4.
This technology can gather the dwell time of people in front of the display, as well as a variety of other attributes, like their estimated age and gender, the brand of clothing they are wearing, traffic trends and more. NaViSense technology should bring a depth of features to currently available displays. Potential use cases include airports, restaurants, busy office buildings, banks and credit union branches, and various retail settings.
"We are thrilled to share NaViSense and our partnership with GuiseAI, at InfoComm 2022," said Kelly Harlin, senior manager, solutions commercialization at Sharp/NEC. "Its practical applications are endless. From uncovering true dwell time and accurately counting people and traffic to collecting audience attributes, the potential uses for NaViSense are only limited by one's imagination."
All of the information collected by NaViSense could potentially be used to improve customer service and the customer experience. For example, in a retail setting, a deeper understanding of customer attributes, such as clothing colour, clothing type and brand logos, could inform product mix and digital content.
Shure Stem microphones certified for Barco Clickshare Conference
Shure showcased its compatibility with Barco ClickShare at InfoComm.  Shure's Stem Ecosystem, including the Stem Wall, Table, and Hub solutions have received full certification with the Barco ClickShare Conference room system. Stem Ceiling is also compatible with the Barco solution.
The certification will make it easier to seamlessly turn any bring-your-own-device (BYOD) meeting space into a fully integrated hybrid meeting environment.
"With this certification for Shure's Stem Ecosystem devices, we are pleased to provide our customers with an excellent audio solution that seamlessly integrates into their hybrid workplaces," said Johan Pirot, product manager for ClickShare Alliances at Barco.
"We are thrilled to expand Barco ClickShare certification to select Stem Ecosystem products," said Luis Guerra, associate director of global product management at Shure. "As hybrid work continues to evolve, Shure is committed to providing users with powerful and seamless conferencing solutions for the modern workplace."
Hybrid Work Solutions take Centerstage for Poly
Poly Introduces People Framing Mode within Poly Director AI Camera Suite.
Poly has been in the video conferencing game from the beginning, so at InfoComm 2022, they were excited to show off new pieces that are specifically focused on the hybrid work environment. One of these solutions is the R30, a video bar designed for small and medium sized rooms that's compatible with USB. Ideal for any meeting from a huddle to a 4 to 5 person room, the high-quality cameras and clear audio are designed specifically to pick up everyone involved. The R30 delivers the mid-range flexibility that so many people are looking for today—employees aren't just going into the office to work, they're going in to collaborate. Poly is seeing a demand for products that allow consumers to work from open spaces in the office, oftentimes so that participants can be around others as they work. Given that insight, Poly has other innovations in the works. They're designing products meant to eliminate extraneous noises using a visual acoustic fence. Their producer AI also helps the cameras to follow participants during a meeting, allowing consumers the freedom to move around as the call goes on.
Samsung Features Newest Version of The Wall and Flip Pro
Samsung Electronics America brought its latest interactive display technology, including state-of-the-art models of The Wall and Flip Pro, to InfoComm 2022 in Las Vegas this week. Following the vision of "Connected Redefined," Samsung and its partners—including The New York Mets—will share how together they are deploying Samsung technology to deliver new immersive experiences that unlock new ways to build customer engagement and limitless possibilities when it comes to driving value for business.
The Wall All-In-One

: Available in three different models (4K 146-inch, 2K 146-inch and 2K 110-inch), this next generation display brings innovation to the installation process, not just the viewing experience. The convenient installation that features a pre-adjusted seam and a 'Pre-Assembled Frame Kit" which makes the entire process simple as a consumer TV.

The Wall IWB

: Introducing the slimmest ever pixel pitch (.63 and 94mm), Samsung's flagship modular Micro LED display delivers an immersive viewing experience in a high-resolution. This latest iteration of The Wall brings improved picture quality, management, and installation to the table with expandability being a major design factor for this year's model.

The Flip Pro

: This interactive whiteboard is available in 75 and 85-inch models, providing both teachers and students with enhanced usability and specialized features to meet ever-changing education needs. The newly added touch latency and multi-touch features allow simultaneous collaboration for up to 20 people.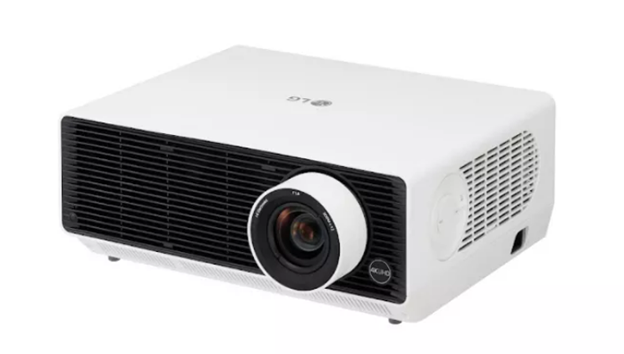 LG Unveils ProBean BU53PST
LG Business Solutions unveiled the LG ProBeam BU53PST, a new 4K UHD short throw laser projector that delivers incredible picture quality for smaller spaces where a large, bright display solution is desired. With 5000 ANSI lumens brightness and an over 25 percent shorter throw ratio than LG's other ProBeam projectors, the versatile LG ProBeam BU53PST has the ability to project bright, high-resolution images in a wide variety of environments.
"Professional integrators can confidently recommend the ProBeam BU53PST to both new and existing clients for various installations," Dan Smith, vice president of business development at LG Business Solutions USA, said at InfoComm 2022. "This new projector has a short throw distance, reliable mercury-free laser lamp, 5,000 lumens brightness as well as a host of other included features. These attributes make this short-throw projector ideal for commercial signage or even home golf simulators."
ProBeam BU53PST offers full 4K UHD resolution of 3,840 x 2160 pixels, a 3,000,000:1 contrast ratio and HDR10 processing compatibility, so all of the latest 4K game and video content is presented in its full glory. The advanced 12-point edge adjustment provides broad latitude to correct the projected image for a wide variety of screen surfaces or installations.
Da-Lite Exhibits SightLine Cable-Drop Feature in the LegrandAV Booth
Da-Lite showed how integrators can solve new challenges in conference rooms, classrooms, and multipurpose spaces with its new aircraft-grade cable drop screen feature, SightLine. Available as an option with the company's Tensioned Advantage and Advantage electric screens, SightLine gives the impression of a floating screen. The single roller design suspension system features three or four thin cables that can accommodate drop distances up to 70 inches between the ceiling and the top of the screen. This innovation eliminates the need for the traditional black border above the projection screen and simplifies AV setups by creating space above a screen to place cameras or speakers, while its low-profile design preserves a room's architectural integrity.
"SightLine is a fresh approach to a projection screen that solves arising challenges," said Wendy Cox, director, product management | Da-Lite, a brand of Legrand | AV. "Whether integrators are tasked with installing AV equipment in more optimal positions, need a solution that can transform a room to address a variety of functions, or just need something that's eye-catchingly different, the SightLine feature is the answer."
Logitech Highlights Its Rally Bar for Hybrid Meetings & Scribe Whiteboard Camera
Logitech Rally Bar delivers a powerful, all-in-one video conferencing experience, featuring brilliant optics, automated PTZ, and high performance audio for midsize meeting rooms. With Rally Bar, video meetings can be just as natural and productive as face-to-face collaboration.
With a dual-camera system and RightSight 2 auto-framing technology, Rally Bar welcomes remote participants to the conversation. Choose Speaker View to highlight the active speaker, Group View to capture everyone in the room, or combine the two for an immersive and engaging experience.
Designed for whiteboard sharing in the modern workplace, Logitech Scribe broadcasts content on dry erase boards into video meetings with outstanding clarity. Now, even remote participants can have the best seat at the table. With a clean wall-mounted design and thoughtful cable management, Scribe installs elegantly and out of the way of meeting collaboration. Together with the whiteboard content camera, Scribe includes a wireless share button, mounting components, power supply, and category cables for deployment at scale. Scribe integrates with leading video conferencing room solutions, including Microsoft Teams Rooms and Zoom Rooms. Simply join the meeting and start sharing.
Sony Highlights Crystal LED Video Walls
The Sony Crystal LED B and C-Series were the centerpiece of their booth. Shown in 2K and 4K configurations, as well as a 16×9 layout, the B and C-Series of immersive direct view LED video walls provide crisp and detailed large-screen messaging and immersive visual experiences. The C-Series is optimized for displaying images with incredible contrast and used in environments such as corporate lobbies, showrooms, museums and boardrooms. The B-Series, which was recently honored with a 2022 Display Industry Award for "Display Application of the Year" from the Society of Information Display, is ideal for bright images and is used in lobbies, virtual sets and production sets. Both series come in 1.2mm and 1.5mm pixel pitches, provide a contrast of over 1,000,000:1, viewing angles of at least 160 degrees and support a wide color gamut that covers 97% of the DCI-P3 color space.
LightWerks has a wide range of audio/visual solutions which include multiple monitors, projector and screen, web conferencing, total control systems and integrated audio & video.
Contact us at LightWerks today or fill in the form below for more information on what we can do for you or your organization!
"*" indicates required fields