Creating Meeting Equity in Hybrid Working
Pixel Real Estate Will Change How We Think About Inclusivity in Hybrid Work
As organizations around the world reconsider their real estate needs, and as video meetings continue to become a more ubiquitous part of our professional lives, we need to consider how pixel real estate will change our interpretation of presence in hybrid meetings.
During fully in-person meetings, everyone is given a seat at the table. This is part of how we ensure that everyone can be included in the discussion and can contribute on an equal playing field. But in

hybrid working

, where some people attend meetings in-person while others join remotely, the playing field no longer exists solely within the physical meeting room; we must now consider avenues of inclusion for those who join remotely.
One of the ways we've been thinking about inclusion in hybrid environments is through pixel real estate. This refers to the amount of screen space an individual takes up in a virtual meeting. Regardless of whether this meeting is fully virtual or hybrid, our ability to see each person equally effectively translates to our degree of presence in the meeting. As we continue to integrate unified communications platforms such as

Microsoft Teams

and

Zoom

into our daily work activities, leaders and organizations will need to increase their focus on equal pixel real estate to offer inclusive and flexible work environments.
Fully remote virtual meetings provide a relatively equal pixel real estate experience; everyone is joining from their individual video stream, so each is equally represented on screen. But without the proper video technology for hybrid meetings, both remote and in-person participants can be at a disadvantage.
Aurangzeb Khan, SVP of Intelligent Vision Systems at

Jabra

, has been working with exactly this issue. "The reason many employees are advised to use their personal devices to join meetings," he says, "is to ensure equitable pixel real estate." However, if you're physically in a meeting room during a hybrid meeting, "you may have a disadvantage because you look smaller than other people, because there are multiple people within a field of view."
This creates a subpar experience for everyone: remote participants strain to see their colleagues, and in-person participants aren't equally represented in the virtual field. To solve this, the next generation collaboration experience has meeting rooms with full video coverage, which have been individualized and presented in an equitable grid. With intelligent video solutions, cameras can individualize streams and zoom in on each person present in a room and effectively present them on screen in the same way that remote participants are seen.
Products that can help creating Meeting Equity:
Zoom Smart Gallery
With current support for up to three video streams, Smart Gallery separates in-room participants into their own individual video tile. This provides remote workers with a clear view of in-room participants, creating an environment where everyone can communicate and collaborate in the same way.
All you'll need to get started is:
A Zoom Room Appliance that supports multiple camera streams. Smart Gallery is currently supported on Neat Bar, Neat Board, Poly Studio X30, and Studio X50
Crestron Sightline / 1 Beyond Auto Tracker
Crestron Sightline Sightline assembles the core platforms of Crestron to create the ideal meeting experience by promoting natural conversation, meeting equity and enhanced collaboration across organizations regardless of where employees are. The 1 Beyond AutoTracker 3 is an innovative high quality PTZ camera that automatically follows a person based on facial and motion detection. Ideal for lecture capture or conferences, the AutoTracker 3 camera makes it possible to automate camera operations with no personnel and still have the viewing experience of a manned camera.
PTZ-IP Conference Cameras
Most of the technologies in the Q-SYS Conference experience are designed to elevate the participants on the far end. A combination of professional quality 1080P video via Q-SYS PTZ conference cameras, and enhanced far-end intelligibility from third-generation Q-SYS acoustic echo cancellation, advanced automixers and noise cancellation technology ensure that your remote participants can actively and effectively participate with the near end conference room participants.
Poly Studio
The

Poly Studio X50

all-in-one video bar is radically simple to use, with support for leading cloud video services built right in — no PC or Mac required. It's easy to keep your eye on the action with intelligent camera framing and NoiseBlockAI technology — all powered by machine learning, while providing room-filling sound from stereo speakers. Get exquisite vocal pickup from our next gen microphones. Easily share content over wired or wireless connections. Dual monitor offers great flexibility.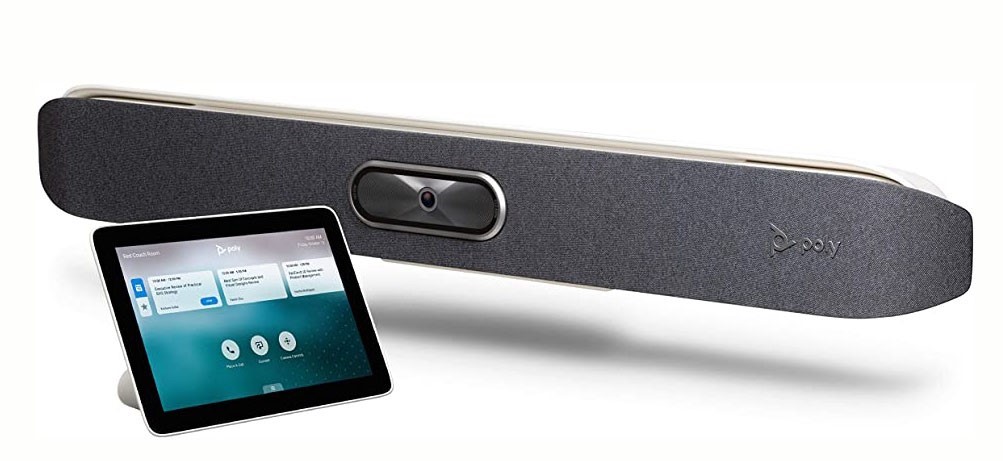 NEAT Symmetry
Neat Symmetry

takes auto framing to the next level by giving everyone a front-row seat in Zoom meetings. Find out how everyone is always seen and heard and remote participants get a genuine sense of being physically in the same room with their colleagues.
Moving into the hybrid future, leaders and IT decision makers will need to consider their video capabilities and how they can boost employee pixel real estate for a more equal and inclusive experience. LightWerks can help with that. Contact us at LightWerks today or fill in the form below for more information on what we can do for your organization!
"*" indicates required fields