Microsoft Teams Rooms Front Row Experience
Microsoft has defined a new category of Teams Rooms for hybrid working.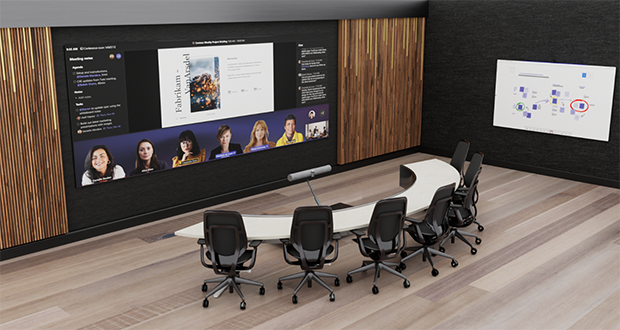 Microsoft has defined a new category of enhanced Microsoft Teams Rooms that brings out the best in the new Front Row experience.
Front Row is the new feature which moves gallery view to the bottom of the screen, so that in-room meeting participants can see their remote colleagues face to face. It also brings meeting content such as chat and a rostered view of raised hands to the forefront of the meeting.
The new enhanced category of

Microsoft Teams Rooms (MTR)

, currently only available for Microsoft Teams Rooms on Windows, is built around two goals. Firstly, making sure everyone in the meeting feels included, represented and productive. And secondly making sure connections feel natural and immersive.
To meet the first goal remote participants should have a genuine presence in the room, in-room participants should retain their individual identity, and everyone should be able to engage in what is called "boundaryless collaboration". There is no single feature that defines success for the second goal but appropriate feature deployments could be using Front Row with a front-of-room display in all meeting spaces where there is an MTR, or implementing curved tables and front-facing layouts with a traditional MTR.
A sample enhanced Microsoft Teams Room in the guidance features a room with a curved table which is optimized for six to eight in-room participants. In initial deployments of enhanced MTRs at Microsoft itself, the MTR compute and touch console are mounted on the table, with an integrated camera and soundbar mounted beneath the displayed image and between the display and a UST, high-resolution projector and the table.
The Windows-based Microsoft Teams Room features a

Logitech TAP

for the touch console paired with a

Lenovo

computer. It has a

Jabra Panacast 50

as an intelligent camera with ultra-wide framing which also meets the microphone and loudspeaker requirements. The display is achieved with an

Epson EB-PU1007 projector

with an ELPX01S UST lens, together with a

Da-Lite screen

. It also includes

Logitech Scribe

for co-creation.
Other options are as follows:
Console and compute: Lenovo ThinkSmart Core and controller; Crestron Flex; Poly G10-T

Camera: Jabra Panacast; Yealink UVC30 and UVC40; Bose Videobar VB1; Poly Studio and Poly Studio E70

Mics and speakers: various models from Biamp; Bose; Lenovo; Nureva; Poly; QSC; Shure; and Yealink

Displays: Epson projectors, LG, Sharp-NEC or Sony LED walls and flat panels that can create a table-spanning, 4K image and a 21:9 aspect ratio

Co-create options: an analogue whiteboard with a content camera or a compatible interactive touch display; content cameras from Huddly, Logitech and Yealink; or a Microsoft Surface Hub 2S.
The new enhanced Microsoft Teams Rooms category is not a one-size-fits-all solution. Enhanced Microsoft Teams Rooms are not meant to be a replacement for all other meeting spaces inside your organization, but rather to act as a supplement to existing meeting spaces that utilize Microsoft Teams. They should be deployed strategically within your organization to the spaces and locations where face-to-face interactions with remote meeting participants will be most valued.
For more information: