Education
Confucius Center at SDSU set up with Audio Visual Technology
The Confucius Center on campus at San Diego State University was a design build project. The Center is comprised of a mixed-use exhibit room, a large conference room and a tea room. It was essential to provide the technology to support events and meetings without detracting from the aesthetic of the space.
LightWerks worked closely with the school's staff, the Project Management team from TGPMLA, Matt Construction staff to overcome obstacles and meet compressed deadlines. LightWerks staff worked additional nights and weekends to help the client meet their project objectives deadlines.
The exhibit hall has three LCDs, two high definition NEC laser projectors and electric screens. The hall is equipped with laptop connections, a BluRay player.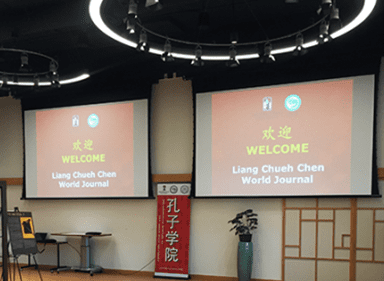 Solstice POD wireless sharing device, overhead Wolfvision ceiling camera and an HD PTZ camera to capture speakers and performances. Both rooms are controlled via custom programmed Extron Touch Link control systems. Users can also control the system remotely with an iPad.
To enable an environment where flourishing ideas can come to life, Lightwerks creates a versatile and reliable audio visual solution that suits your unique needs and space. We have a wide range of audio/visual solutions which include multiple monitors, projector and screen, web conferencing, total control systems and integrated audio & video.
Contact us at LightWerks today for more information on what we can do for you or your organization!