Education
LightWerks creates hybrid classrooms at Pacific University
Following the pandemic, mixed-modality models of education, such as hybrid learning, have become less of a luxury, and more of an expectation in scholastic settings. LightWerks specializes in connecting students and educators in the classroom with remote participants using video conferencing technologies.  Recently, LightWerks partnered with Pacific University in Oregon to integrate state-of-the-art hybrid classrooms at their College of Education.  The design involved a divide/combine space that is flexible, reliable, and ideal for distance learning.
To ensure that both lecturers and students are visible to remote participants, LightWerks integrated front and rear AVER PTZ-310 tracking cameras. Shure MXA910W ceiling microphones were integrated to pick up audio from both the instructor and students.  In addition to the SHURE ceiling microphone to pick up student's voices LightWerks integrated handheld and Countryman lavalier microphone in the lectern for the instructor's use.   Each room includes a Listening Assisted Receiver in the lectern for those students with hearing impairment.  The audio is routed into an Extron digital sound processor that also sends the audio to the PC for use in soft code calls such as Zoom.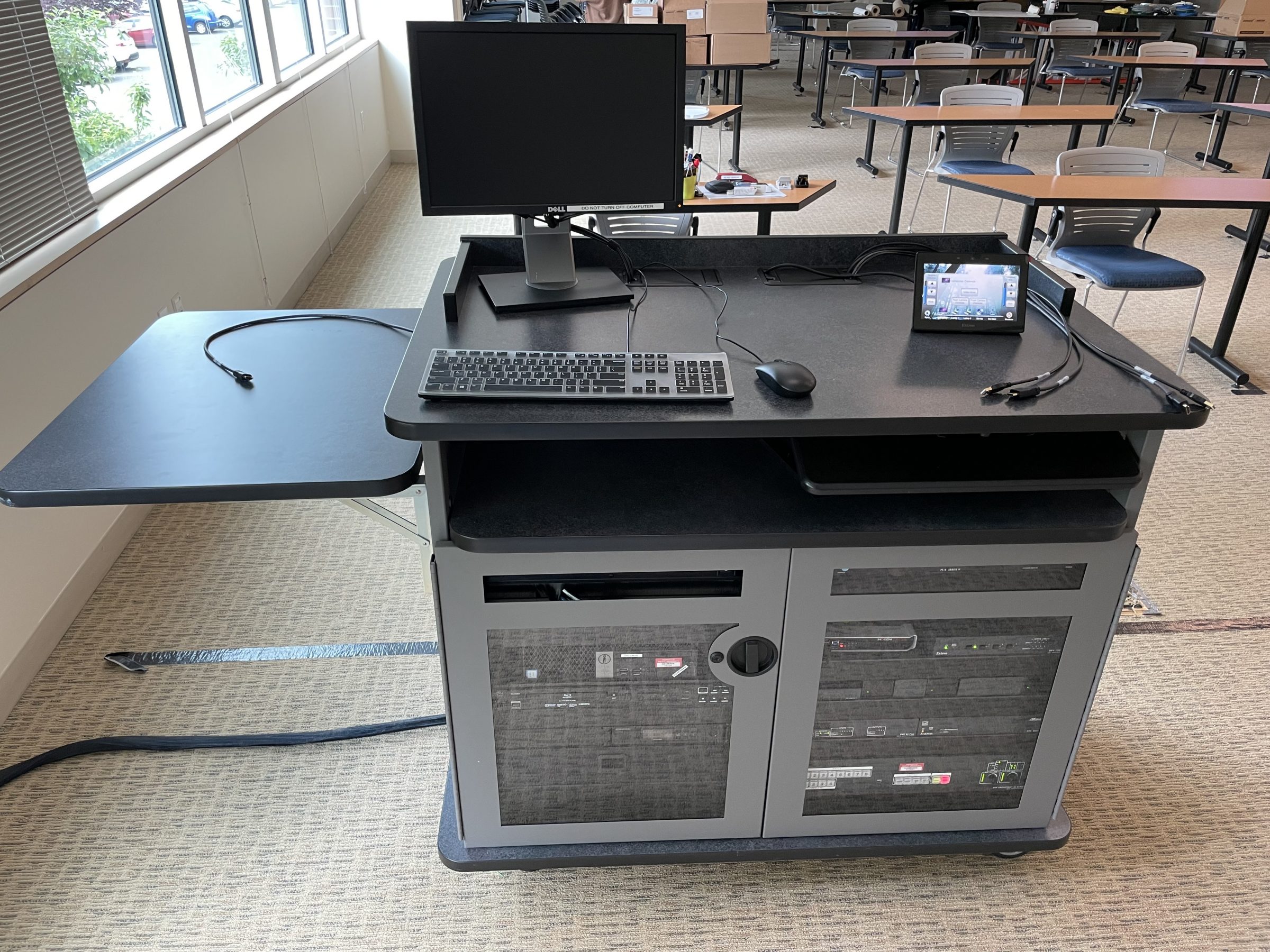 To display content, LightWerks installed of a SONY, WUXGA, 6100 lumen laser projector and a sleek, 113" Dalite fixed frame Da-Snap wall mounted screen. In addition, multiple sources of content can be presented via SONY 4K 75" flat panels.    All the sources are routed to an Extron DTP Extron DTP Crosspoint in a true matrix fashion. Using a custom programmed, 7" Extron touch panel, any source has the ability to be sent to any destination in either of the rooms or combined.
The hybrid classrooms installed at Pacific University's College of Education will serve to connect lecturers with future educators near and far. Contact LightWerks to learn how we can work with your educational institution to integrate hybrid classroom solutions.
LightWerks can design a custom Audio Visual solution to meet the needs of your company, district, or institution. We specialize in interactive technology, cloud-based conferencing, and high quality audiovisual products to improve efficiency, increase collaboration, and enhance presentations in your organization.
Contact your local LightWerks office in Boise, Los Angeles, Portland, San Diego, or the San Francisco Bay today, or fill in below form!