Corporate
LightWerks Designs Microsoft Teams Boardroom Focused on Meeting Equity
As hybrid work continues to gain traction in the corporate world, many conference rooms are in need of a refresh to support modern meetings. Most legacy video conference environments do not adequately support hybrid meetings because they were built for a time when video calls were room to room.  After working from home and becoming familiarized with video conferencing tools, individuals have become accustomed to conferencing that supports the framing of the speaker, allowing for the recognition of facial expressions and focused audio. Individuals are seen and heard clearly from their personal devices, and have noticed a disparity between this user experience and that of the conference rooms to which they are returning.  The term meeting equity means creating equal experiences for meeting participants across all workspaces, including meeting rooms, training spaces, remote work locations, and across all meeting platforms. In today's workplace, video has joined audio as the standard for collaboration. As a result, an equitable meeting experience must include reliable video capabilities for every participant. To achieve true employee engagement, teams must be able to see and hear each other regardless of where they are connecting to the meeting.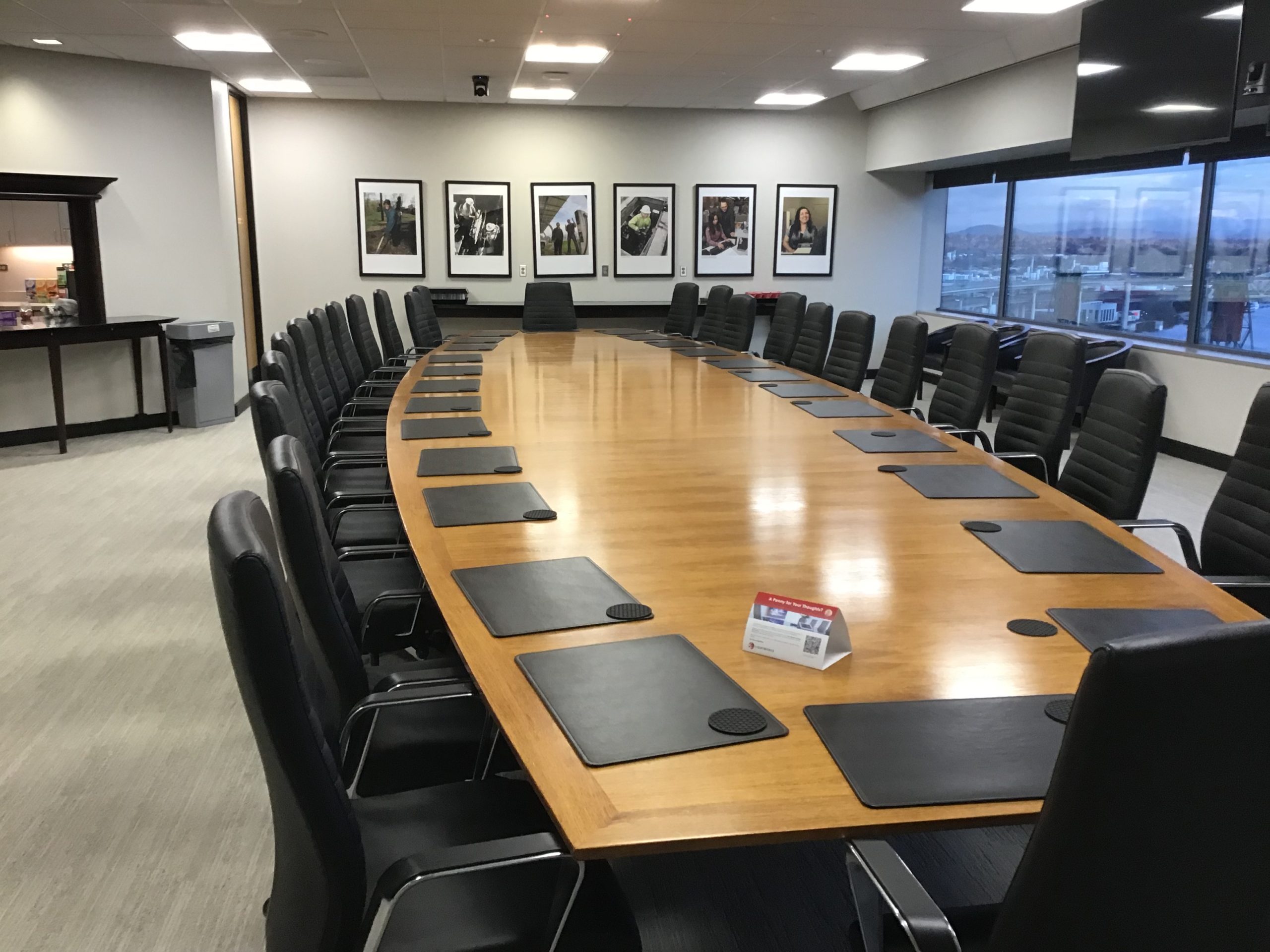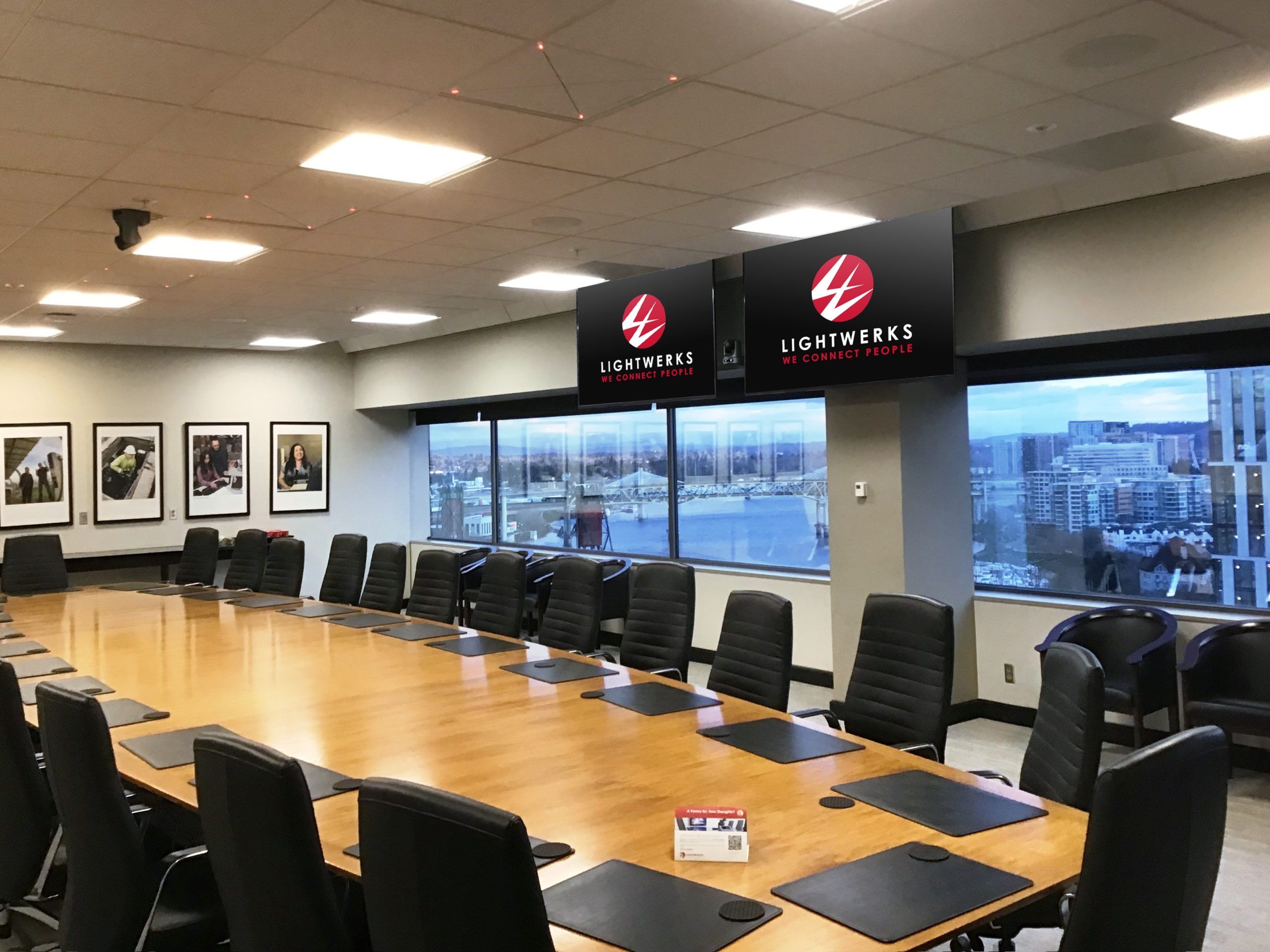 LightWerks partnered with the largest utility company in Oregon to update the technology in their boardroom.  The organization was intent on creating a meeting space supporting video conferencing that felt personal.  They wanted technology that preserved the integrity of the individuals in the room. The refresh involved the design and integration of state-of-art technologies that support meeting equity, ensuring that all participants in the room are framed so that they are seen and heard, regardless of where they are seated in the space.
Four high-definition Sony displays serve to ensure that all participants in the meeting have access to the content being displayed, regardless of where they are seated in the boardroom.   Two 85 inch displays were installed  on the front wall with a camera in between them, and an additional two 75 inch displays are on the back wall, also with a camera installed between them.
LightWerks integrated a QSC Q-SYS system to support audio, video, and control. The solution involves 5 strategically placed cameras and multiple highly intelligent, beam forming SENNHEISER microphones in the ceiling which surround a 35′ wide table. When a meeting participant speaks, the microphones lock in on their voice and share the exact coordinates to the control system. That information triggers the system to switch between cameras, automatically providing a closeup camera shot and a personal experience for remote participants. Powered by Microsoft Teams Room software, and paired with a Visionary Solutions AV over iP system, a Logitech Tap control panel makes it simple for end users to operate this sophisticated space.  This system was designed so that an executive can enter the room and press one button to join a Microsoft Teams meeting, and have the system take it from there.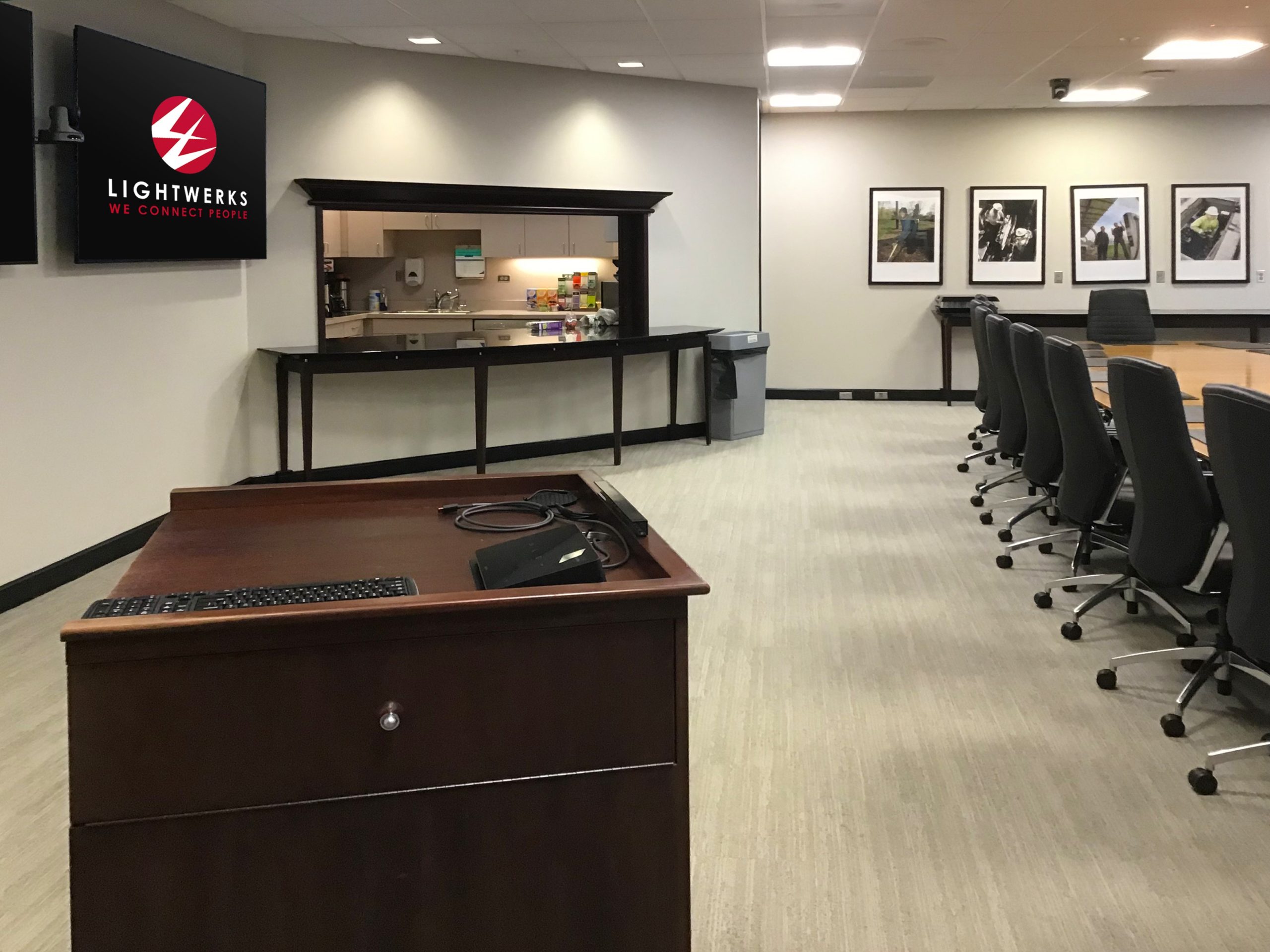 The return to the office has magnified the shortcomings of legacy videoconferencing systems, which typically have a set focus on the entire room, not giving special attention to the speaker.  Today, a variety of technologies and design methodologies can improve the meeting experience for both the in-room participants and remote participants. The innovative and clever use of these technologies can assist in delivering an inclusive and immersive meeting experience with the overall goal of meeting equity. LightWerks specializes in the design and integration of hybrid video conferencing technologies that support meeting equity and add value to productivity and collaboration.
Contact your local LightWerks office in Boise, Los Angeles, Portland, San Diego, or the San Francisco Bay today, or fill in below form!