Healthcare /Medical
LightWerks installs Audio Visual equipment in WWAMI university lab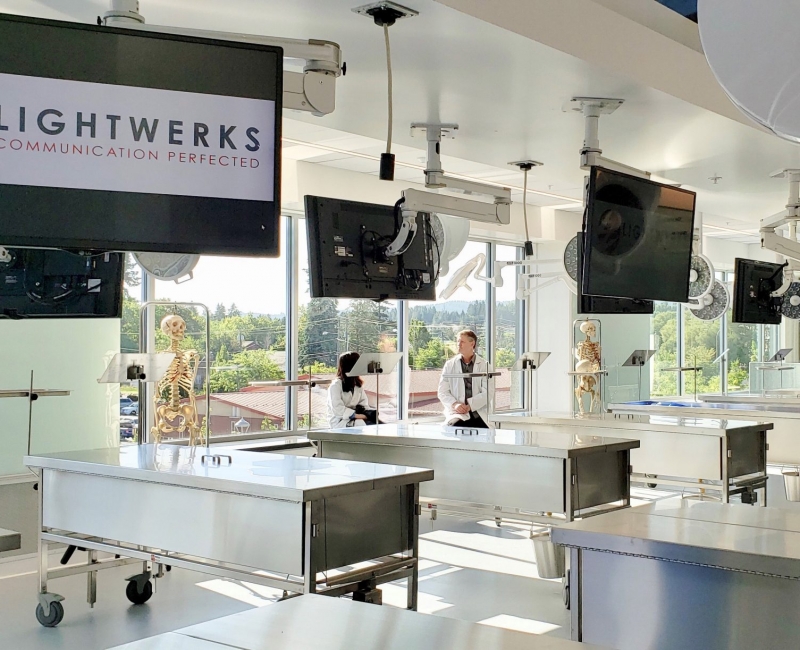 LightWerks installs Audio Visual equipment in WWAMI university lab
LightWerks partnered with WWAMI to create this stunning medical training facility. WWAMI has been identified as the nation's top primary-care, family medicine and rural medicine training school by U.S. News & World Report for the past 23 years. LightWerks integrated advanced AV technology into several training and meeting spaces at this top medical training school.
WWAMI is a regional medical education collaboration among Washington, Wyoming, Alaska, Montana and Idaho. Historically, University of Idaho's WWAMI students used the anatomy lab at Washington State University in Pullman for their training. However, when WSU pulled out of the program to open its four-year medical school in Spokane, University of Idaho found itself in need of a lab of its own. Now, University of Idaho's new anatomy lab has everything you need.
LightWerks delivered a comprehensive AV technology solution for the classroom, common space, conference room, anatomy lab, prosection lab, reception, as well as the lobby. The entire system runs off an SVSI networked system for audio and video signal distribution.
The state-of-the-art anatomy lab is surrounded by large bay windows,  providing ample natural light. Each of the 14 teaching stations is equipped with surgical lights and a 32'' LG display that communicates with an OFE PC. The lab was designed to serve as a highly collaborative space. Two 80'' NEC displays at either end allow instructors to display content from any of the stations using HDMI head cameras. The audio is supplied by Atlas ceiling speakers. The ease of system navigation is ensured by a wall mounted AMX touch panel that controls the entire room.
The classroom is outfitted with a Clarus Glassboard Floats and a Dalite ceiling screen. Additionally, the space features dual Panasonic WUXGA, short throw laser projectors and a NEC 70'' display for far end VTC support. A Spectrum, Honors lectern at the front of the room houses laptop connections, OFE PC, WolfVision VZ3Neo, and a SHURE two-channel wireless system that offers optional microphone use. The clouds above the tables accomodate a CM-02 ceiling microphone and a JBL speaker. A Cisco Touch 10 controller for the Cisco codec resides in the rack room for in-room VTC. In the common space, used for overflow from the classroom, LightWerks installed two NEC displays, eight JBL speakers and a 10'' touch panel at the receptionist's desk.