8 Essential Audio Visual Components for Your Conference Room
From our home office to the conference room, the way we work is transforming at a rapid pace. The right meeting room technology enables the seamless connection between all customers, partners, and employees regardless of where they are located. Not only does it support relationship building on a deeper level than audio alone, it also acts as a cost-saving tool by reducing travel expenses.
To maximize your collaborative efforts and increase your efficiency, there are a few key pieces of conference room audio visual technology critical to success.
1. Displays
When entering a conference room, undoubtedly the first thing that catches one's eye is the display. This is the "visual" part of conference room audio visual, and it is one of your main collaboration tools. The display enables you to see colleagues in other locations, view presentations, and screen share from laptops, tablets, and smartphones.
Manufacturers such as Samsung, Sharp/NEC, and Sony have developed state-of-the-art flat panel displays to fit a variety of presentation needs. 4K UHD is now the standard in display technology, but a display alone doesn't necessarily mean a 4K UHD image. The bandwidth and content can all impact image quality.  In addition to flat panel displays,

high definition projectors

are often used in conferencing spaces. Projectors screens can offer a larger display than flat panels, and are typically less expensive. Motorized, retractable screens make it easy to store screens away when they are not in use.
Single displays are a common choice for many small conference rooms. Dual displays are a popular option, especially for companies that engage in frequent video-conferencing. These dual, or even tri displays allow screen sharing and video conferencing to share the spotlight.
When on a video call with a single display you'll likely have picture in picture view capability. This means you get to choose between seeing the content that's being shared or the other people on the video call in the large view. Content is often chosen for the large portion of the screen, since it typically drives the meeting's conversation.  Whichever isn't in the large view is shown in a small square at the bottom of the screen. Since content is usually in the large view, people on the call are shown in a small frame. In a conference room setting, this can take away from one of the main benefits of video conferencing- seeing people!
2. Video Conferencing
The return to the office certainly isn't going to be uniform. In many businesses, some staff members will never come back to the office full-time – if at all. So while we may not be as dependent on

video conferencing

as we were in 2021, businesses will still require video conference capability in just about every collaborative space.
Video conferencing has taken center stage in the meeting room. Zoom, Teams, Google Meet,  

Poly

, Cisco, and LifeSize all offer various conference room solutions. Most platforms provide Outlook and Google integrations for easy meeting scheduling.
As video calls become more mainstream, organizations are frequently on calls with clients, partners, and off-site employees. These external participants may be joining the meeting from a different video conferencing platform. A company working with Zoom may need to invite a partner that uses Teams. Fortunately, most video conferencing technologies are designed to manage these situations, offering simple connection instructions for those working with different systems.
Scaling web conferencing is a big trend. More and more companies are standardizing on technologies like Zoom, Teams, and Google Meet in their conference rooms.

Crestron

,

Extron

, and

Poly

are a few of the manufacturers that offer hardware to scale these platforms in the conference room.
3. Microphones & Speakers
Audio is the second piece of the meeting room communication. While some companies are comfortable going all-in with video calls, others still want the option for audio conferencing. It's common for companies to have both audio and video conferencing technology in a single room. Microphones and speakers are a critical component to conference room audio visual. These can be either in-ceiling, on-table, or a sound bar mounted below the display (sound bars can be an appropriate solution for smaller spaces).
The selection of microphones and speakers will have a substantial impact on the overall conferencing experience. The right set-up can reduce echo, feedback, and other noises heard by conference participants.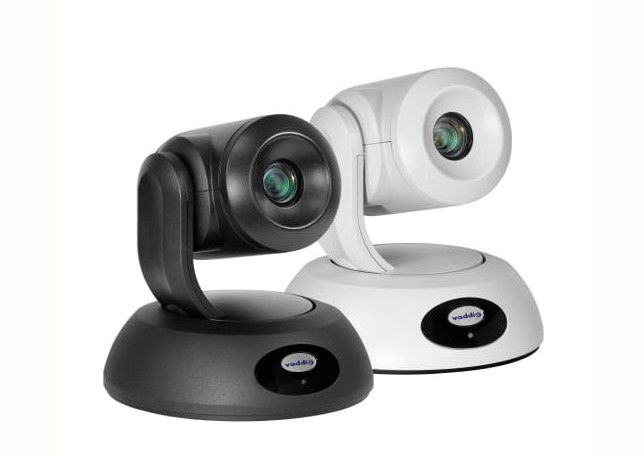 4. Camera
If your conference room is designed for video calls, it will need to be equipped with a camera.  This can range from a small camera in a huddle room to something more sophisticated in larger spaces.
Depending on the configuration of the furniture in your huddle room, you might consider a camera with a 180 degree viewing angle, such as

Vaddio

. Since huddle rooms are small collaboration spaces, a table and chairs are often positioned close to the display and camera. If the camera's viewing angle is too narrow, then those sitting nearest to the display may be excluded from the field of view.
Pan-tilt-zoom (PTZ) cameras

are common in large conference rooms. A variety of manufacturers offer these types of cameras. Your video conferencing platform may dictate the camera needed, or LightWerks will specify one of the preferred camera solutions.
5. Control Panel
The control panel acts as your control center for the whole conference room audio visual system. Finding an easy-to-use, well thought-out control panel is important to your success in operating your conferencing room.
The user interface on the control panel is critical. It should be simple for employees to enter the conference room and connect to video calls or launch presentations. The systems allow you to transition from a screen sharing presentation to video conferencing, all with a single touch.
Companies like Crestron and Extron develop hardware for systems control. Both offer excellent conference room solutions with the right programming. The control system must be programmed to work with all of your conference room equipment – displays, microphones, speakers, cameras, wireless screen sharing, etc.  Lighting can also be controlled via these panels.  Our programmers at LightWerks have expertise in

programming touch panel control systems

.  We can even customize the interface of your control panels with your company's branding. Certified in Crestron and Extron, we can save you a big headache when it comes time to put it all together!
6. Connectivity
Connecting devices to a conference space can be accomplished through a wired connection, wirelessly, or a combination of both wired and wireless. Both wired and wireless connectivity have their pros and cons, and ultimately it will come down to a matter of personal preference.
Many people prefer wireless connectivity simply because it eliminates the clutter of cords.  Alternatively, table inserts can discretely conceal wired connectivity that would typically provide a higher-quality and more stable presentation experience.
Connected table boxes can also include electrical outlets and USB connectivity for charging devices, or a wired connection for plug and play. If you want to be able to screen your share without plugging in, a wireless connectivity solution may be the right choice for you.
7. Interactive Whiteboards
Interactive displays offer users the opportunity to collaborate and add content to presentations.   If you host brainstorming sessions in your office or work with people that are visual learners (around 65% of people), an interactive display can be a valuable tool to add to your system of conference room equipment. Interactive displays, such as  BenQ,  NewLine, and

SMART

 allow users to write directly on the board in various colors, annotating over web pages or documents.
In addition, video conferencing platforms such as

Zoom

enable users to whiteboard while on the call, and share to other participants in real-time or after the conference has completed. In other words, users in different locations can simultaneously contribute to a shared whiteboard space. This can add value if your employees present over video conferencing, and can create a more engaging experience for the others on the call.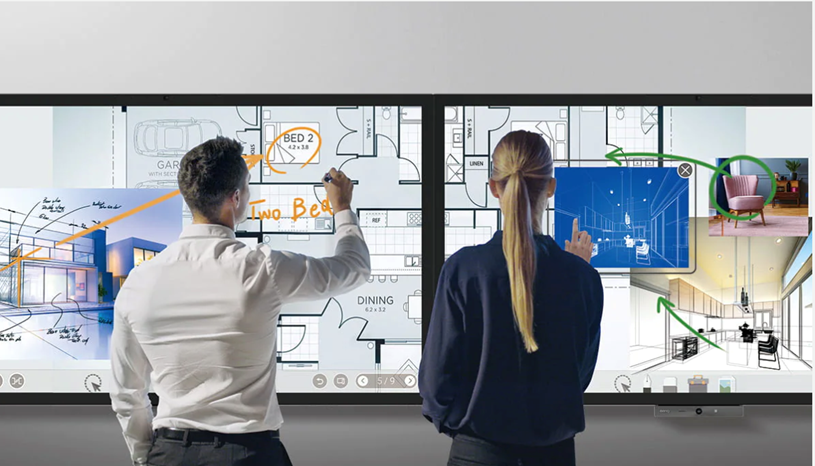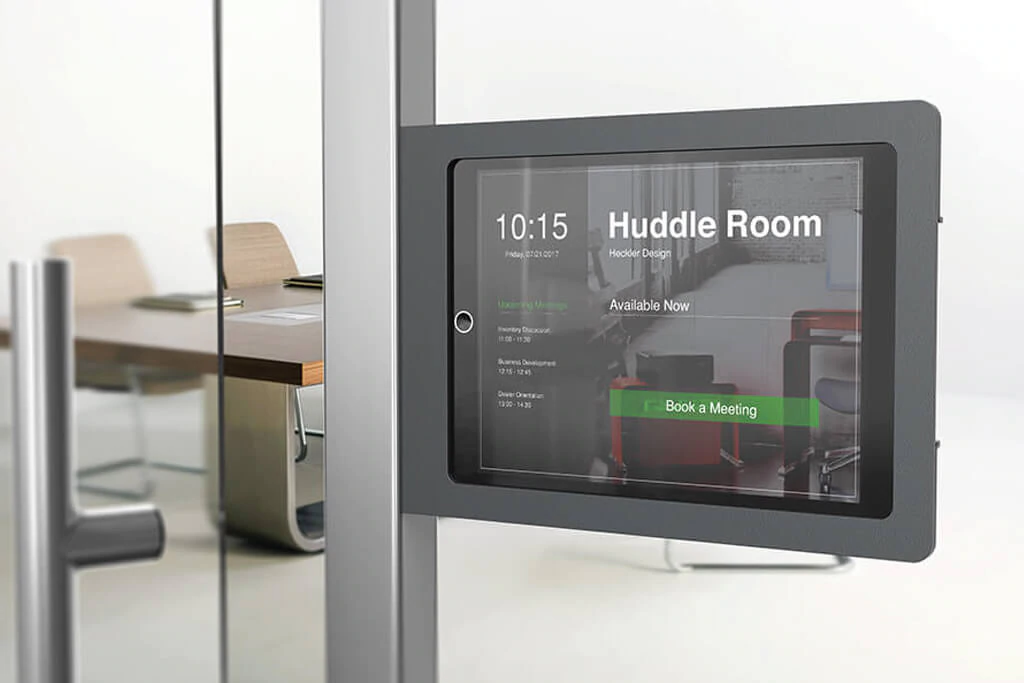 8. Room Scheduling
Just outside of the conference room door is an opportunity to increase efficiency and gain valuable analytics.  Room scheduling touch screens provide a robust productivity tool for organizations with multiple conference rooms and meeting spaces. Mounted on the wall outside each room, they allow anyone to see at-a-glance if a room is available or in use, and view details about the current meeting. Upcoming meetings and open time slots are clearly displayed on a scrolling calendar ribbon, and users can even reserve a room right on the spot from the touch screen.
Crestron's room schedulers

, for example, can feature both a touch-panel display which is installed outside the room as well as an LED that lights up red or green depending on the room's availability.  The room scheduler automatically goes red when the room is booked and stays green when available. This allows passerby's to quickly see which spaces are available for an impromptu meeting.
Built-in software directly connects to most popular calendaring platforms such as Microsoft and Google. Employees can easily schedule a meeting room by inviting the room just like they would invite a colleague. Open architecture allows you to run applications like teem, Robin, and appspace.
Moving into the hybrid future, leaders and IT decision makers will need to consider their video capabilities and how they can maximize their collaborative efforts and increase their efficiency . LightWerks can help with that.

Contact us

at LightWerks today or fill in the form below for more information on what we can do for your organization!